Guides, Abilities, Catching, Chat , Interface, Maps, Moves, Natures, TP/UV, Training, Transforming, Videos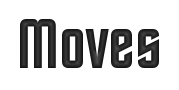 A complete list of all the moves currently in the game along with their stats.
Use Ctrl+F to search page! Until such time as I make a code for a search box, this is your only method of finding quickly!
| ID | Name | Type | Category | Power | Accuracy | PP | Priority | More Facts | E1 | E2 | E3 | E4 | E5 |
| --- | --- | --- | --- | --- | --- | --- | --- | --- | --- | --- | --- | --- | --- |
| 18 | Attack Powder | Bug | Status | 0 | 1000 | 20 | 0 | This move increases the user's Attack and Special Attack stat by 1 stage and will not work once 5 stages are gained or if the user's increased stat is 2000. | Attack Gain: 1 | SpAttack Gain: 1 | null | null | null |
| 96 | Defend Command | Bug | Status | 0 | 1000 | 20 | 0 | This move increases the user's Defense stat and Special Defense stat by 1 stage and will not work once 5 stages are gained or if the user's Defense stat is 2000. | SpDefense Gain: 1 | Defense Gain: 1 | null | null | null |
| 143 | Entangle | Bug | Status | 0 | 1000 | 30 | 0 | This move decreases the enemy's Speed stat by 1 stage and will not work once 5 stages are decreased. | Speed Decrease: 1 | null | null | null | null |
| 327 | Nature Heal | Bug | Status | 0 | 1000 | 10 | 0 | This move restores user's half of the Maximum HP. | Life Gain User MaximumHP Percent: 50 | null | null | null | null |
| 465 | Sticky Web | Bug | Status | 0 | 1000 | 10 | 0 | This move traps the opponent so Opponent cannot switch out or flee from the battle. | null | null | null | null | null |
| 343 | Pin Gun | Bug | Physical | 15 | 90 | 25 | 0 | This move has a 40% chance of hitting 2 times, a 35% chance of hitting 3 times, a 15% chance of hitting 4 times and a 10% chance of hitting 5 times. If first hit be critical hit all other hits will be also critical hit. | Multiple Hit: 2-5 | null | null | null | null |
| 251 | Insect Opposition | Bug | Special | 40 | 95 | 25 | 0 | This move will do double when User's CurrentHP is below half of its MaximumHP. | Double Damage Half User MaximumHP: Yes | null | null | null | null |
| 296 | Mandibles | Bug | Physical | 55 | 90 | 25 | 0 | This move inflicts damage and has no secondary effect. | null | null | null | null | null |
| 394 | Round Strike | Bug | Physical | 55 | 1000 | 10 | 0 | This move does not miss. | null | null | null | null | null |
| 417 | Shimmering Wind | Bug | Special | 75 | 75 | 10 | 0 | This move has a 50% chance of paralyzing the foe. | Paralyze Probability: 50 | null | null | null | null |
| 272 | Life Drain | Bug | Physical | 75 | 90 | 5 | 0 | The user gains HP equal to 50% of the damage the opponent took. | Life Absorb Damage Percent: 50 | null | null | null | null |
| 29 | Bleed Cut | Bug | Physical | 75 | 80 | 20 | 0 | This move has a 50% chance of cause bleeding at the foe. | Bleeding Probability: 50 | null | null | null | null |
| 250 | Insect Buzz | Bug | Special | 85 | 75 | 15 | 0 | This move decreases the enemy's Special Defense stat by 1 stage and will not work once 5 stages are decreased. | SpDefense Decrease: 1 | null | null | null | null |
| 11 | All Charge | Bug | Physical | 95 | 80 | 10 | 0 | This move has increased critical hit ratio (2x). | Critic Level: 2 | null | null | null | null |
| 300 | Mega Stab | Bug | Physical | 120 | 75 | 5 | 0 | This move inflicts damage and has no secondary effect. | null | null | null | null | null |
| 482 | Super Horn | Bug | Physical | 135 | 75 | 10 | 0 | This move inflicts damage and has no secondary effect. | null | null | null | null | null |
| 523 | Toxic Kiss | Dark | Status | 0 | 40 | 5 | 0 | This move will cause opponent to fall asleep for 1-5 turns. | Sleep Probability: 100 | null | null | null | null |
| 291 | Lunar Light | Dark | Status | 0 | 1000 | 5 | 0 | If weather is cloudy restored HP is equal to 25% of User's MaximumHP else if weather is normal restored HP is equal to 50% of User's MaximumHP else if weather is Cloudless restored HP is equal to 75% of User's MaximumHP. | Cloudless Weather HP Restore: Yes | null | null | null | null |
| 353 | Power Absorb | Dark | Status | 0 | 1000 | 5 | 0 | User becomes fainted after this move executed. This move decreases the enemy's Attack and Special Attack stat by 10 stages and will not work once 5 stages are decreased. | Recoil Damage Percent: 100 | Attack Decrease: 10 | SpAttack Decrease: 10 | null | null |
| 415 | Sharpen Up | Dark | Status | 0 | 1000 | 20 | 0 | This move increases the user's Attack and Accuracy stat by 1 stage and will not work once 5 stages are gained or if the user's increased stat is 2000. | Attack Gain: 1 | Accuracy Gain: 1 | null | null | null |
| 397 | Scheme | Dark | Status | 0 | 1000 | 20 | 0 | This move increases the user's Special Attack stat by 2 stages and will not work once 5 stages are gained. | SpAttack Gain: 2 | null | null | null | null |
| 50 | Cajole | Dark | Status | 0 | 100 | 5 | 0 | This move has a 100% chance of confusing the foe. | Confuse Probability: 100 | null | null | null | null |
| 95 | Death Glare | Dark | Status | 0 | 95 | 5 | 0 | This move has a 100% chance of paralyzing the foe. | Paralyze Probability: 100 | null | null | null | null |
| 78 | Crocodile Tears | Dark | Status | 0 | 1000 | 25 | 0 | This move decreases the enemy's Special Defense stat by 2 stages and will not work once 5 stages are decreased. | SpDefense Gain: 2 | null | null | null | null |
| 90 | Darkest Dream | Dark | Status | 0 | 75 | 15 | 0 | This move will cause opponent to fall asleep for 1-5 turns. | Sleep Probability: 100 | null | null | null | null |
| 203 | Harass | Dark | Status | 0 | 75 | 35 | 0 | This move decreases the enemy's Accuracy and Evasion stat by 1 stage and will not work once 5 stages are decreased. | Accuracy Decrease: 1 | Evasion Decrease: 1 | null | null | null |
| 87 | Dark Rays | Dark | Special | 15 | 90 | 25 | 0 | This move has a 40% chance of hitting 2 times, a 35% chance of hitting 3 times, a 15% chance of hitting 4 times and a 10% chance of hitting 5 times. If first hit be critical hit all other hits will be also critical hit. | Multiple Hit: 2-5 | null | null | null | null |
| 263 | Knock Away | Dark | Physical | 30 | 100 | 30 | 0 | This move has a 35% chance to cause the foe to cringe. If the user attacks second, it cannot make the opponent cringe. | Cringe Probability: 35 | null | null | null | null |
| 221 | Horrifying Cry | Dark | Special | 50 | 85 | 20 | 0 | This move decreases the enemy's Special Attack stat by 1 stage and will not work once 5 stages are decreased. | SpAttack Decrease: 1 | null | null | null | null |
| 89 | Dark Threat | Dark | Special | 50 | 90 | 15 | 0 | This move decreases the enemy's Special Attack stat by 1 stage and will not work once 5 stages are decreased. | SpAttack Decrease: 1 | null | null | null | null |
| 116 | Drain Life | Dark | Special | 50 | 95 | 10 | 0 | The user gains HP equal to 50% of the damage the opponent took. | Life Absorb Damage Percent: 50 | null | null | null | null |
| 405 | Shadow Arm | Dark | Physical | 50 | 90 | 15 | 0 | This move has a 30% chance to cause the foe to cringe. If the user attacks second, it cannot make the opponent cringe. | Cringe Probability: 30 | null | null | null | null |
| 390 | Revenge Time | Dark | Physical | 50 | 95 | 10 | 0 | The attack only doubles in power if it is used second and only if hit by an opponent first. | Double Power If Goes Last: Yes | null | null | null | null |
| 407 | Shadow Burn | Dark | Special | 55 | 90 | 15 | 0 | This move has a 40% chance of burning the foe. If foe is Frozen, this move will thaw it out. | Burn Probability: 40 | null | null | null | null |
| 55 | Chase Down | Dark | Physical | 55 | 85 | 10 | 5 | Very high priority move. | null | null | null | null | null |
| 213 | Hidden Punch | Dark | Physical | 55 | 1000 | 15 | 0 | This move inflicts damage and has no secondary effect. | null | null | null | null | null |
| 195 | Gnaw | Dark | Physical | 55 | 95 | 25 | 0 | This move has a 15% chance to cause the foe to cringe. If the used a second time, it cannot make the opponent cringe. | Cringe Probability: 15 | null | null | null | null |
| 85 | Dark Blade | Dark | Physical | 65 | 80 | 40 | 0 | This move has a 35% chance of cause bleeding at the foe. | Bleeding Probability: 35 | null | null | null | null |
| 411 | Shadow Slash | Dark | Physical | 65 | 95 | 5 | 0 | This move has increased critical hit ratio (4x). | Critic Level: 3 | null | null | null | null |
| 88 | Dark Roar | Dark | Special | 70 | 100 | 25 | 0 | This move inflicts damage and has no secondary effect. | null | null | null | null | null |
| 409 | Shadow Game | Dark | Physical | 75 | 80 | 15 | 0 | High priority move. | null | null | null | null | null |
| 344 | Pitch Black | Dark | Physical | 75 | 75 | 15 | 0 | This move decreases the enemy's Accuracy stat by 1 stage and will not work once 5 stages are decreased. | Accuracy Decrease: 1 | null | null | null | null |
| 313 | Moon Impact | Dark | Physical | 80 | 85 | 15 | 0 | This move has a 25% chance to cause the foe to cringe. If the user attacks second, it cannot make the opponent cringe. | Cringe Probability: 25 | null | null | null | null |
| 57 | Chomp | Dark | Physical | 80 | 80 | 10 | 0 | This move decreases the enemy's Defense stat by 1 stage and will not work once 5 stages are decreased. | Defense Decrease: 1 | null | null | null | null |
| 423 | Sinister Wave | Dark | Special | 85 | 90 | 15 | 0 | This move inflicts damage and has no secondary effect. | null | null | null | null | null |
| 406 | Shadow Blade | Dark | Physical | 90 | 80 | 10 | 0 | This move has a 35% chance of cause bleeding at the foe. | Bleeding Probability: 35 | null | null | null | null |
| 248 | Ink Bomb | Dark | Special | 90 | 70 | 10 | 0 | This move decreases the enemy's Accuracy stat by 1 stage and will not work once 5 stages are decreased. | Accuracy Decrease: 1 | null | null | null | null |
| 93 | Deadly Beat | Dark | Physical | 105 | 75 | 10 | 0 | This move has a 25% chance to cause the foe to cringe. If the user attacks second, it cannot make the opponent cringe. | Cringe Probability: 25 | null | null | null | null |
| 412 | Shadow Strike | Dark | Special | 120 | 60 | 10 | 0 | This move has increased critical hit ratio (2x). | Critic Level: 2 | null | null | null | null |
| 290 | Lunar Liberation | Dark | Special | 120 | 80 | 5 | -1 | This move has a 30% chance of freezing the foe. If foe is Burning, this move will extinguish it out. | Freeze Probability: 30 | null | null | null | null |
| 298 | Mega Fang | Dark | Physical | 120 | 75 | 5 | 0 | This move inflicts damage and has no secondary effect. | null | null | null | null | null |
| 534 | Undefined Blast | Dark | Special | 120 | 95 | 5 | -1 | This move has a 15% chance to cause the foe to cringe. If the user attacks second, it cannot make the opponent cringe. | Cringe Probability: 15 | null | null | null | null |
| 443 | Soul Reap | Dark | Physical | 140 | 95 | 5 | 0 | The user takes recoil damage equal to 50% of the damage dealt to the Opponent | Recoil Damage Percent: 50 | null | null | null | null |
| 338 | Pendulum Swing | Dark | Physical | 150 | 95 | 5 | -1 | Turn consuming move. Next turn user has to rest and can not use any move. Low priority move. | Next Turn Rest: 1 | null | null | null | null |
| 22 | Bane Claw | Dark | Physical | 160 | 90 | 5 | -1 | Turn consuming move. Next turn user has to rest and can not use any move. Low priority move. | Next Turn Rest: 1 | null | null | null | null |
| 110 | Dragon Eye | Dragon | Special | 0 | 1000 | 15 | 0 | This move chooses one of the user's Stats at random and raises it by 2 stages. It can raise one of the user's Attack, Defense, Speed, Special Attack, Special Defense, Accuracy or Evasion stat. | Random Stat Gain: 2 | null | null | null | null |
| 119 | Drake Dance | Dragon | Status | 0 | 1000 | 5 | 0 | This move increases the user's Attack and Speed stat by 2 stages and will not work once 5 stages are gained or if the user's increased stat is 2000. | Attack Gain: 2 | Speed Gain: 2 | null | null | null |
| 112 | Dragon Power | Dragon | Special | 1 | 100 | 10 | 0 | This move always deals 55 damage and has a critical hit ratio of 0%. | Constant Damage: 55 | null | null | null | null |
| 552 | Whip | Dragon | Physical | 30 | 80 | 10 | 0 | This move has a 40% chance of hitting 2 times, a 35% chance of hitting 3 times, a 15% chance of hitting 4 times and a 10% chance of hitting 5 times. If first hit be critical hit all other hits will be also critical hit. | Multiple Hit: 2-5 | null | null | null | null |
| 373 | Quick Twister | Dragon | Special | 40 | 100 | 25 | 0 | This move has a 25% chance to cause the foe to cringe. If the user attacks second, it cannot make the opponent cringe. | Cringe Probability: 25 | null | null | null | null |
| 109 | Dragon Chop | Dragon | Physical | 45 | 85 | 15 | 0 | Hits 2 times in a row. If first hit be critical hit all other hits will be also critical hit. | Multiple Hit: 2 | null | null | null | null |
| 111 | Dragon Fire | Dragon | Special | 65 | 90 | 25 | 0 | This move has a 35% chance of paralyzing the foe. | Paralyze Probability: 35 | null | null | null | null |
| 118 | Drake Claw | Dragon | Physical | 75 | 90 | 25 | 0 | This move inflicts damage and has no secondary effect. | null | null | null | null | null |
| 115 | Dragon Wind | Dragon | Physical | 95 | 75 | 10 | 0 | This move has increased critical hit ratio (2x). | Critic Level: 2 | null | null | null | null |
| 107 | Dragon Aura | Dragon | Special | 95 | 85 | 10 | 0 | This move inflicts damage and has no secondary effect. | null | null | null | null | null |
| 113 | Dragon Strike | Dragon | Physical | 115 | 95 | 10 | -5 | Very low priority move. | null | null | null | null | null |
| 114 | Dragon Tornado | Dragon | Special | 120 | 90 | 10 | -1 | This move has a 100% chance to cause the foe to cringe. If the user attacks second, it cannot make the opponent cringe. Low priority move. | Cringe Probability: 100 | null | null | null | null |
| 108 | Dragon Blitz | Dragon | Physical | 120 | 70 | 10 | 0 | This move has a 35% chance to cause the foe to cringe. If the user attacks second, it cannot make the opponent cringe. | Cringe Probability: 35 | null | null | null | null |
| 333 | Ozone Burst | Dragon | Special | 120 | 85 | 5 | 0 | This move has a 25% chance of burning the foe. If foe is Frozen, this move will thaw it out. | Burn Probability: 25 | null | null | null | null |
| 306 | Meteor Rain | Dragon | Special | 150 | 85 | 5 | 0 | This move decreases the User's Special Attack stat by 2 stages and will not work once 5 stages are decreased. | SpAttack Gain: -2 | null | null | null | null |
| 377 | Rampage | Dragon | Physical | 155 | 95 | 10 | 0 | The user takes recoil damage equal to 45% of the damage dealt to the Opponent | Recoil Damage Percent: 45 | null | null | null | null |
| 518 | Total Eclipse | Dragon | Special | 160 | 80 | 5 | -1 | This move inflicts damage and has no secondary effect. | null | null | null | null | null |
| 418 | Shock | Electric | Status | 0 | 95 | 5 | 0 | This move has a 100% chance of paralyzing the foe. | Paralyze Probability: 100 | null | null | null | null |
| 134 | Electricity Charge | Electric | Status | 0 | 1000 | 10 | 0 | This move increases the user's Special Attack and Special Defense stat by 1 stage and will not work once 5 stages are gained. | SpAttack Gain: 1 | SpDefense Gain: 1 | null | null | null |
| 215 | High Voltage | Electric | Status | 0 | 1000 | 20 | 0 | This move increases the user's Attack and Special Attack stat by 1 stage and will not work once 5 stages are gained or if the user's increased stat is 2000. | Attack Gain: 1 | SpAttack Gain: 1 | null | null | null |
| 130 | Electric Discharge | Electric | Special | 1 | 100 | 25 | 0 | This move Power varies randomly. This move has a 20% chance of having 15 Power, a 20% chance of having 25 Power, a 15% chance of having 35 Power, a 15% chance of having 45 Power, a 10% chance of having 65 Power, a 10% chance of hav | Constant Random Power: Yes | null | null | null | null |
| 132 | Electric Sparks | Electric | Special | 20 | 85 | 20 | 0 | This move has a 40% chance of hitting 2 times, a 35% chance of hitting 3 times, a 15% chance of hitting 4 times and a 10% chance of hitting 5 times. If first hit be critical hit all other hits will be also critical hit. | Multiple Hit: 2-5 | null | null | null | null |
| 136 | Electrocute | Electric | Special | 45 | 95 | 25 | 0 | This move has a 15% chance of paralyzing the foe. | Paralyze Probability: 15 | null | null | null | null |
| 135 | Electro Net | Electric | Special | 60 | 85 | 15 | 0 | This move decreases the enemy's Speed stat by 1 stage and will not work once 5 stages are decreased. | Speed Decrease: 1 | null | null | null | null |
| 131 | Electric Orb | Electric | Special | 60 | 80 | 15 | 0 | This move increases the user's Speed stat by 1 stage and will not work once 5 stages are gained or if the user's Speed stat is 2000. | Speed Gain: 1 | null | null | null | null |
| 512 | Thunder Ray | Electric | Special | 60 | 80 | 20 | 0 | This move has a 70% chance of paralyzing the foe. | Paralyze Probability: 70 | null | null | null | null |
| 513 | Thunder Spear | Electric | Physical | 60 | 85 | 15 | 0 | This move has a 35% chance of paralyzing the foe. | Paralyze Probability: 35 | null | null | null | null |
| 447 | Sparkbite | Electric | Physical | 65 | 90 | 25 | 0 | This move has a 15% chance to cause the foe to cringe. If the user attacks second, it cannot make the opponent cringe. This move has a 15% chance of paralyzing the foe. | Cringe Probability: 15 | Paralyze Probability: 15 | null | null | null |
| 137 | Electrode Spark | Electric | Special | 65 | 1000 | 15 | 0 | This move does not miss. | null | null | null | null | null |
| 184 | Fritz | Electric | Physical | 65 | 85 | 20 | 0 | This move has a 35% chance of paralyzing the foe. | Paralyze Probability: 35 | null | null | null | null |
| 509 | Thunder Claw | Electric | Physical | 75 | 85 | 15 | 0 | This move has a 15% chance of paralyzing the foe. This move has increased critical hit ratio (2x). | Paralyze Probability: 15 | Critic Level: 2 | null | null | null |
| 511 | Thunder Jolt | Electric | Physical | 90 | 80 | 15 | 0 | This move has a 40% chance of paralyzing the foe. | Paralyze Probability: 40 | null | null | null | null |
| 419 | Shock Punch | Electric | Physical | 90 | 85 | 10 | 0 | This move has a 15% chance of paralyzing the foe. | Paralyze Probability: 15 | null | null | null | null |
| 554 | Wild Rush | Electric | Physical | 95 | 95 | 20 | 0 | The user takes recoil damage equal to 25% of the damage dealt to the Opponent | Recoil Damage Percent: 25 | null | null | null | null |
| 133 | Electric Strike | Electric | Special | 95 | 80 | 20 | 0 | This move has a 35% chance of paralyzing the foe. | Paralyze Probability: 35 | null | null | null | null |
| 48 | Burning Shock | Electric | Special | 95 | 75 | 10 | 0 | This move has a 50% chance of paralyzing the foe. | Paralyze Probability: 50 | null | null | null | null |
| 84 | Cyber Shock | Electric | Special | 100 | 80 | 10 | 0 | This move has a 25% chance of paralyzing the foe. | Freeze Probability: 25 | null | null | null | null |
| 253 | Ion Cannon | Electric | Special | 100 | 70 | 10 | 0 | This move increases the user's Special Attack stat by 1 stage and will not work once 5 stages are gained. | Attack Gain: 1 | null | null | null | null |
| 283 | Lightning Ball | Electric | Special | 100 | 75 | 10 | 0 | This move has a 50% chance of paralyzing the foe. | Paralyze Probability: 50 | null | null | null | null |
| 500 | Tesla Coil | Electric | Special | 100 | 85 | 10 | -1 | This move has a 100% chance of paralyzing the foe. Low priority move. | Paralyze Probability: 100 | null | null | null | null |
| 284 | Lightning Bolt | Electric | Special | 110 | 80 | 15 | 0 | This move has a 15% chance of paralyzing the foe. | Paralyze Probability: 15 | null | null | null | null |
| 510 | Thunder Fall | Electric | Special | 120 | 80 | 5 | 0 | This move has a 35% chance of paralyzing the foe. | Paralyze Probability: 35 | null | null | null | null |
| 508 | Thunder | Electric | Special | 140 | 55 | 10 | 0 | This move has a 100% chance of paralyzing the foe. | Paralyze Probability: 100 | null | null | null | null |
| 461 | Static Cannon | Electric | Special | 140 | 45 | 5 | 0 | This move has a 100% chance of paralyzing the foe. | Paralyze Probability: 100 | null | null | null | null |
| 359 | Predict | Fighting | Status | 0 | 1000 | 5 | 3 | This move increases the user's Evasion stat by 3 stage and will not work once 5 stages are increased. Very high priority move. | Evasion Gain: 3 | null | null | null | null |
| 319 | Muscle Tense | Fighting | Status | 0 | 1000 | 15 | 0 | This move increases the user's Attack and Defense stat by 1 stage and will not work once 5 stages are gained or if the user's increased stat is 2000. | Attack Gain: 1 | Defense Gain: 1 | null | null | null |
| 332 | Overthrow | Fighting | Physical | 1 | 100 | 25 | 0 | Power dealt is equal to the level of the target. | Power Equal Level: Yes | null | null | null | null |
| 507 | Thrust | Fighting | Physical | 20 | 85 | 25 | 0 | This move has a 40% chance of hitting 2 times, a 35% chance of hitting 3 times, a 15% chance of hitting 4 times and a 10% chance of hitting 5 times. If first hit be critical hit all other hits will be also critical hit. | Multiple Hit: 2-5 | null | null | null | null |
| 448 | Speed Punch | Fighting | Physical | 35 | 100 | 35 | 1 | High priority move. | null | null | null | null | null |
| 123 | Dual Kick | Fighting | Physical | 35 | 85 | 30 | 0 | Hits 2 times in a row. If first hit be critical hit all other hits will be also critical hit. | Multiple Hit: 2 | null | null | null | null |
| 75 | Counter Strike | Fighting | Physical | 45 | 95 | 35 | -4 | The attack only doubles in power if it is used second and only if hit by an opponent first. Very low priority move. | Double Power If Goes Last: Yes | null | null | null | null |
| 260 | Judo Chop | Fighting | Physical | 45 | 95 | 30 | 0 | This move has increased critical hit ratio (2x). | Critic Level: 2 | null | null | null | null |
| 204 | Hard Slam | Fighting | Physical | 55 | 95 | 15 | 0 | This move inflicts damage and has no secondary effect. | null | null | null | null | null |
| 433 | Slide Kick | Fighting | Physical | 55 | 95 | 20 | 0 | This move has a 25% chance to cause the foe to cringe. If the user attacks second, it cannot make the opponent cringe. | Cringe Probability: 25 | null | null | null | null |
| 450 | Spin Kick | Fighting | Physical | 60 | 85 | 20 | 0 | This move has a 35% chance to cause the foe to cringe. If the user attacks second, it cannot make the opponent cringe. | Cringe Probability: 35 | null | null | null | null |
| 528 | Trip Kick | Fighting | Physical | 65 | 85 | 15 | 0 | This move decreases the enemy's Speed stat by 1 stage and will not work once 5 stages are decreased. | Speed Decrease: 1 | null | null | null | null |
| 178 | Focus Force | Fighting | Physical | 65 | 80 | 15 | 0 | This move has a 35% chance of paralyzing the foe. | Paralyze Probability: 35 | null | null | null | null |
| 21 | Awakening Slap | Fighting | Physical | 70 | 85 | 15 | 0 | This move inflicts double damage on sleeping foe. This move will also wake up opponent. | Wake Up Enemy: Yes | Double Damage Sleep Foe: Yes | null | null | null |
| 117 | Drain Strike | Fighting | Physical | 70 | 80 | 10 | 0 | The user gains HP equal to 50% of the damage the opponent took. | Life Absorb Damage Percent: 50 | null | null | null | null |
| 146 | Examination Fight | Fighting | Physical | 70 | 1000 | 10 | -1 | Low priority move. | null | null | null | null | null |
| 451 | Spinning Punch | Fighting | Physical | 70 | 85 | 15 | 0 | This move has a 25% chance of confusing the foe. | Confuse Probability: 25 | null | null | null | null |
| 551 | Weak Point | Fighting | Physical | 75 | 80 | 25 | 0 | This move has increased critical hit ratio (2x). | Critic Level: 2 | null | null | null | null |
| 187 | Full Nelson | Fighting | Physical | 75 | 90 | 20 | 0 | This move inflicts damage and has no secondary effect. | null | null | null | null | null |
| 7 | Aerial Dive | Fighting | Physical | 85 | 75 | 15 | 0 | This move has increased critical hit ratio (2x). | Critic Level: 2 | null | null | null | null |
| 472 | Stone Smash | Fighting | Special | 85 | 80 | 20 | 0 | This move lets you pass certain rocks on the map. If any Monster in your team knows this move you will be able to pass certain rocks on the map. This move has a 50% chance to cause the foe to cringe. If the user attacks second, it cannot make th | Cringe Probability: 50 | null | null | null | null |
| 177 | Flying Kick | Fighting | Physical | 90 | 80 | 15 | 0 | This move inflicts damage and has no secondary effect. | null | null | null | null | null |
| 506 | Throw Over | Fighting | Physical | 100 | 65 | 10 | 0 | This move has a 35% chance to cause the foe to cringe. If the user attacks second, it cannot make the opponent cringe. | Cringe Probability: 35 | null | null | null | null |
| 23 | Bear Down | Fighting | Physical | 110 | 85 | 10 | 0 | This move decreases the User's Speed stat by 1 stage and will not work once 5 stages are decreased. | Speed Gain: -1 | null | null | null | null |
| 201 | Grudge | Fighting | Physical | 120 | 75 | 5 | 0 | This move inflicts damage and has no secondary effect. | null | null | null | null | null |
| 527 | Tricky Punch | Fighting | Physical | 120 | 50 | 5 | 0 | If this move hits, target will become confused for 1-5 turns. | Confuse Probability: 100 | null | null | null | null |
| 61 | Clinch | Fighting | Physical | 125 | 95 | 5 | 0 | This move decreases the user's Defense and Special Defense stats by 1 stage and will not work once 5 stages are decreased. | null | null | null | null | null |
| 64 | Concentration Blast | Fighting | Special | 130 | 60 | 5 | 0 | This move decreases the enemy's Special Defense stat by 1 stage and will not work once 5 stages are decreased. | SpDefense Decrease: 1 | null | null | null | null |
| 485 | Super Strength | Fighting | Physical | 130 | 100 | 5 | 0 | This move decreases the enemy's Attack and Defense stat by 2 stage and will not work once 5 stages are decreased. | Attack Gain: -2 | Defense Gain: -2 | null | null | null |
| 24 | Beat Up | Fighting | Physical | 135 | 85 | 10 | 0 | The user takes recoil damage equal to 25% of the damage dealt to the Opponent | Recoil Damage Percent: 25 | null | null | null | null |
| 259 | Jet Kick | Fighting | Physical | 140 | 80 | 10 | 0 | The user takes recoil damage equal to 15% of the damage dealt to the Opponent | Recoil Damage Percent: 15 | null | null | null | null |
| 65 | Concentration Punch | Fighting | Physical | 165 | 55 | 10 | -1 | This move inflicts damage and has no secondary effect. Low priority move. | null | null | null | null | null |
| 148 | Exhausting Strike | Fighting | Physical | 1000 | 1000 | 5 | 0 | If this move successfully hits, it will knock out (KO) the opponent instantly unless opponent does not have any KO preventing effects. After this move used user will become fainted. | Knock Out: Yes | Recoil Damage Percent: 100 | null | null | null |
| 158 | Fire Ring | Fire | Status | 0 | 1000 | 10 | 0 | This move will restore user's HP instantly equal to 35% of it's Maximum HP. | Life Gain User MaximumHP Percent: 35 | null | null | null | null |
| 190 | Ghost Flare | Fire | Status | 0 | 100 | 5 | 0 | This move has a 100% chance of burning the foe. If foe is Frozen, this move will thaw it out. | Burn Probability: 100 | null | null | null | null |
| 287 | Live Coal | Fire | Status | 0 | 95 | 40 | 0 | This move has a 100% chance of burning the foe. If foe is Frozen, this move will thaw it out. | Burn Probability: 100 | null | null | null | null |
| 161 | Fireball | Fire | Special | 25 | 90 | 10 | 0 | This move has a 40% chance of hitting 2 times, a 35% chance of hitting 3 times, a 15% chance of hitting 4 times and a 10% chance of hitting 5 times. If first hit be critical hit all other hits will be also critical hit. | Multiple Hit: 2-5 | null | null | null | null |
| 243 | Ignite | Fire | Special | 35 | 1000 | 15 | 0 | This move has a 20% chance of burning the foe. If foe is Frozen, this move will thaw it out. | Burn Probability: 20 | null | null | null | null |
| 166 | Flame Spout | Fire | Special | 50 | 95 | 20 | 0 | This move has a 15% chance of burning the foe. If foe is Frozen, this move will thaw it out. | Burn Probability: 15 | null | null | null | null |
| 163 | Flame Armor | Fire | Physical | 55 | 85 | 25 | 0 | This move increases the user's Speed stat by 1 stage and will not work once 5 stages are gained or if the user's Speed stat is 2000. | Speed Gain: 1 | null | null | null | null |
| 42 | Bright Flame | Fire | Special | 60 | 80 | 15 | 0 | This move decreases the enemy's Accuracy stat by 1 stage and will not work once 5 stages are decreased. | Accuracy Decrease: 1 | null | null | null | null |
| 170 | Flare | Fire | Special | 65 | 90 | 10 | 0 | This move will do double when User's CurrentHP is below half of its MaximumHP. | Double Damage Half User MaximumHP: Yes | null | null | null | null |
| 160 | Fire Wheel | Fire | Physical | 70 | 85 | 30 | 0 | This move has a 15% chance of burning the foe. If foe is Frozen, this move will thaw it out. | Burn Probability: 15 | null | null | null | null |
| 165 | Flame Punch | Fire | Physical | 75 | 90 | 15 | 0 | This move has a 15% chance of burning the foe. If foe is Frozen, this move will thaw it out. | Burn Probability: 15 | null | null | null | null |
| 156 | Fire Claw | Fire | Physical | 75 | 85 | 15 | 0 | This move has a 15% chance of burning the foe. If foe is Frozen, this move will thaw it out. This move has increased critical hit ratio (2x). | Burn Probability: 15 | Critic Level: 2 | null | null | null |
| 326 | Napalm | Fire | Special | 75 | 85 | 15 | 0 | This move has a 15% chance of burning the foe. If foe is Frozen, this move will thaw it out. | Burn Probability: 15 | null | null | null | null |
| 453 | Split Blast | Fire | Special | 75 | 85 | 10 | 0 | This move has a 20% chance of burning the foe. If foe is Frozen, this move will thaw it out. | Burn Probability: 20 | null | null | null | null |
| 171 | Flarebite | Fire | Physical | 85 | 85 | 15 | 0 | This move has a 15% chance to cause the foe to cringe. If the user attacks second, it cannot make the opponent cringe. This move has a 15% chance of burning the foe. If foe is Frozen, this move will thaw it out. | Burn Probability: 15 | Cringe Probability: 15 | null | null | null |
| 169 | Flaming Kick | Fire | Physical | 85 | 75 | 10 | 0 | This move has a 15% chance of burning the foe. If foe is Frozen, this move will thaw it out. This move has increased critical hit ratio (2x). | Burn Probability: 15 | Critic Level: 2 | null | null | null |
| 167 | Flame Tail | Fire | Physical | 90 | 85 | 10 | 0 | This move has a 15% chance of burning the foe. If foe is Frozen, this move will thaw it out. | Burn Probability: 15 | null | null | null | null |
| 168 | Flame Twister | Fire | Special | 95 | 85 | 10 | 0 | This move has a 25% chance of burning the foe. If foe is Frozen, this move will thaw it out. | Burn Probability: 25 | null | null | null | null |
| 211 | Hellfire | Fire | Special | 95 | 55 | 5 | 0 | This move has a 100% chance of burning the foe. If foe is Frozen, this move will thaw it out. | Burn Probability: 100 | null | null | null | null |
| 266 | Lava Wave | Fire | Special | 95 | 95 | 15 | -1 | This move has a 35% chance of burning the foe. If foe is Frozen, this move will replace it. | Burn Probability: 35 | null | null | null | null |
| 67 | Conflagration | Fire | Special | 95 | 80 | 20 | 0 | This move has a 35% chance of burning the foe. If foe is Frozen, this move will thaw it out. | Burn Probability: 35 | null | null | null | null |
| 293 | Magma Beam | Fire | Special | 100 | 70 | 10 | 0 | This move has a 35% chance of burning the foe. If foe is Frozen, this move will thaw it out. | Burn Probability: 35 | null | null | null | null |
| 164 | Flame Orb | Fire | Special | 105 | 85 | 5 | 0 | This move has a 25% chance of burning the foe. If foe is Frozen, this move will thaw it out. | Burn Probability: 25 | null | null | null | null |
| 209 | Heat Blast | Fire | Special | 120 | 85 | 5 | 0 | This move has a 15% chance of burning the foe. If foe is Frozen, this move will thaw it out. | Burn Probability: 15 | null | null | null | null |
| 246 | Inferno | Fire | Special | 120 | 95 | 5 | -1 | This move has a 50% chance of burning the foe. If foe is Frozen, this move will replace it. | Burn Probability: 50 | null | null | null | null |
| 247 | Inferno Onrush | Fire | Physical | 120 | 90 | 5 | 0 | This move has a 70% chance of burning the foe. If foe is Frozen, this move will thaw it out. The user takes recoil damage equal to 50% of the damage dealt to the Opponent. | Burn Probability: 70 | Recoil Damage Percent: 50 | null | null | null |
| 230 | Hyper Flame | Fire | Special | 120 | 85 | 10 | 0 | This move has a 25% chance of burning the foe. If foe is Frozen, this move will thaw it out. | Burn Probability: 25 | null | null | null | null |
| 553 | Whispy Strike | Fire | Physical | 120 | 95 | 5 | -1 | This move has a 15% chance to cause the foe to cringe. If the user attacks second, it cannot make the opponent cringe. | Cringe Probability: 15 | null | null | null | null |
| 47 | Burning Breath | Fire | Special | 125 | 85 | 5 | 0 | This move has a 15% chance of burning the foe. If foe is Frozen, this move will thaw it out. | Burn Probability: 15 | null | null | null | null |
| 157 | Fire Rain | Fire | Physical | 135 | 85 | 15 | 0 | This move has a 25% chance of burning the foe. If foe is Frozen, this move will thaw it out. The user takes recoil damage equal to 25% of the damage dealt to the Opponent | Recoil Damage Percent: 25 | Burn Probability: 25 | null | null | null |
| 302 | Melt Down | Fire | Special | 145 | 85 | 5 | 0 | This move decreases the User's Special Attack stat by 2 stages and will not work once 5 stages are decreased. | SpAttack Gain: -2 | null | null | null | null |
| 155 | Fire Burst | Fire | Special | 150 | 60 | 5 | 0 | This move has a 35% chance of burning the foe. If foe is Frozen, this move will thaw it out. | Burn Probability: 35 | null | null | null | null |
| 101 | Detonation | Fire | Special | 150 | 75 | 15 | 0 | The user takes recoil damage equal to 20% of the damage dealt to the Opponent | Recoil Damage Percent: 20 | null | null | null | null |
| 159 | Fire Storm | Fire | Special | 155 | 95 | 5 | 0 | Requires two turns to use. User can not change Monster or use another move until move completed. | Multiple Turn To Complete: 2 | null | null | null | null |
| 37 | Bomber | Fire | Physical | 1000 | 1000 | 10 | 0 | If this move successfully hits, it will knock out (KO) the opponent instantly unless opponent has a KO preventing effect. After this move is used, the user will faint. | Knock Out: Yes | Recoil Damage Percent: 100 | null | null | null |
| 17 | Atmosphere Flame | Fire | Special | 1000 | 20 | 10 | 0 | If this move successfully hits, it will knock out (KO) the opponent instantly unless opponent does has KO preventing effects. Hit accuracy will be determined by this formula: hit accuracy = ((level of user - level of enemy)+20)% | Knock Out: Yes | null | null | null | null |
| 339 | Perch | Flying | Status | 0 | 1000 | 20 | 0 | This move restores user's HP equal to 30% of its MaximumHP. | Life Gain User MaximumHP Percent: 30 | null | null | null | null |
| 345 | Plume Waltz | Flying | Status | 0 | 1000 | 20 | 0 | This move decreases the enemy's Attack stat by 2 stages and will not work once 5 stages are decreased. | Attack Decrease: 2 | null | null | null | null |
| 474 | Storm Fist | Flying | Special | 20 | 85 | 10 | 0 | This move has a 40% chance of hitting 2 times, a 35% chance of hitting 3 times, a 15% chance of hitting 4 times and a 10% chance of hitting 5 times. If first hit be critical hit all other hits will be also critical hit. | Multiple Hit: 2-5 | null | null | null | null |
| 544 | Void | Flying | Special | 35 | 95 | 40 | 1 | High priority move. | null | null | null | null | null |
| 483 | Super Peck | Flying | Physical | 40 | 100 | 30 | 0 | This move inflicts damage and has no secondary effect. | null | null | null | null | null |
| 189 | Gale | Flying | Special | 45 | 95 | 35 | 0 | This move inflicts damage and has no secondary effect. | null | null | null | null | null |
| 428 | Sky Slash | Flying | Physical | 50 | 1000 | 25 | 0 | This move has increased Accuracy. | null | null | null | null | null |
| 558 | Wing Slam | Flying | Physical | 60 | 90 | 40 | 0 | This move inflicts damage and has no secondary effect. | null | null | null | null | null |
| 560 | Wispy Slice | Flying | Special | 60 | 95 | 25 | 0 | This move has a 60% chance to cause the foe to cringe. If the user attacks second, it cannot make the opponent cringe. | Cringe Probability: 60 | null | null | null | null |
| 4 | Acrobatic Strike | Flying | Physical | 60 | 85 | 15 | 0 | This move has increased critical hit ratio (2x). | Critic Level: 2 | null | null | null | null |
| 10 | Air Scythe | Flying | Special | 65 | 70 | 15 | 0 | This move has increased critical hit ratio (4x). | Critic Level: 3 | null | null | null | null |
| 62 | Clutch | Flying | Physical | 65 | 85 | 15 | 0 | This move inflicts damage and has no secondary effect. | null | null | null | null | null |
| 150 | Extreme Dive | Flying | Physical | 65 | 90 | 15 | 0 | This move has a 35% chance to cause the foe to cringe. If the user attacks second, it cannot make the opponent cringe. | Cringe Probability: 35 | null | null | null | null |
| 176 | Fly Dance | Flying | Special | 65 | 85 | 25 | 0 | This move has a 35% chance of confusing the foe. | Confuse Probability: 35 | null | null | null | null |
| 538 | Vampiric Strike | Flying | Special | 65 | 85 | 15 | 0 | The user gains HP equal to 40% of the damage the opponent took. | Life Absorb Damage Percent: 45 | null | null | null | null |
| 557 | Wind Wave | Flying | Special | 75 | 75 | 15 | 0 | This move increases the user's Speed stat by 1 stage and will not work once 5 stages are gained or if the user's Speed stat is 2000. | Speed Gain: 1 | null | null | null | null |
| 532 | Twister Beak | Flying | Physical | 85 | 80 | 25 | 0 | This move inflicts damage and has no secondary effect. | null | null | null | null | null |
| 226 | Hurricane Wing | Flying | Physical | 90 | 80 | 15 | 0 | This move has a 25% chance to cause the foe to cringe. If the user attacks second, it cannot make the opponent cringe. | Cringe Probability: 25 | null | null | null | null |
| 175 | Fly | Flying | Physical | 95 | 95 | 15 | 0 | Requires two turns to use. The user takes off on the first turn, and then dives to attack on the second. It can also be used outside of battle to travel from one town to the other. The user has to have visited that town before traveling there with the | Multiple Turn To Complete: 2 | null | null | null | null |
| 102 | Diamond Wind | Flying | Special | 100 | 95 | 10 | -1 | This move inflicts damage and has no secondary effect. | null | null | null | null | null |
| 516 | Tornado | Flying | Physical | 110 | 65 | 10 | 0 | This move inflicts damage and has no secondary effect. | null | null | null | null | null |
| 495 | Tempest | Flying | Physical | 130 | 65 | 10 | 0 | This move has 35% chance to confuse target for 1-5 turns. | Confuse Probability: 35 | null | null | null | null |
| 6 | Aerial Assault | Flying | Physical | 130 | 95 | 15 | 0 | The user takes recoil damage equal to 50% of the damage dealt to the Opponent | Recoil Damage Percent: 50 | null | null | null | null |
| 105 | Dive Bomb | Flying | Physical | 150 | 90 | 5 | 0 | The user takes recoil damage equal to 50% of the damage dealt to the Opponent | Recoil Damage Percent: 50 | null | null | null | null |
| 427 | Sky Dive | Flying | Physical | 160 | 70 | 5 | 0 | Requires two turns to use. The user flys high on the first turn, and then dives to attack on the second turn. Move preventing status problems will end this move. Has a 35% chance to cause the foe to cringe. If the user attacks second, it cannot ma | Multiple Turn To Complete: 2 | Cringe Probability: 35 | null | null | null |
| 452 | Spirit Dance | Ghost | Status | 0 | 1000 | 15 | 0 | This move randomly increases 2 stats of Monster 1 stage. | Gain 2 Random Stats: 1 | null | null | null | null |
| 86 | Dark Mind | Ghost | Status | 0 | 1000 | 20 | 0 | This move randomly decreases enemy's 2 stats by 1 stage. | Decrease 2 Random Stats: 1 | null | null | null | null |
| 224 | Horror Chant | Ghost | Status | 0 | 1000 | 10 | 0 | This move randomly decreases enemy's 1 stat by 2 stages. | Decrease 1 Random Stat: 2 | null | null | null | null |
| 27 | Black Shadow | Ghost | Special | 1 | 90 | 10 | 0 | This move always deals 60 damage and has a critical hit ratio of 0%. | Constant Damage: 60 | null | null | null | null |
| 217 | Hollow Bubbles | Ghost | Special | 20 | 80 | 10 | 0 | This move has a 40% chance of hitting 2 times, a 35% chance of hitting 3 times, a 15% chance of hitting 4 times and a 10% chance of hitting 5 times. If first hit be critical hit all other hits will be also critical hit. | Multiple Hit: 2-5 | null | null | null | null |
| 459 | Startle | Ghost | Physical | 35 | 95 | 20 | 0 | This move has a 35% chance of paralyzing the foe. | Paralyze Probability: 35 | null | null | null | null |
| 395 | Salivate | Ghost | Physical | 35 | 100 | 40 | 0 | This move has a 35% chance of paralyzing the foe. | Paralyze Probability: 35 | null | null | null | null |
| 245 | Incognito | Ghost | Physical | 45 | 95 | 35 | 1 | High priority move. | null | null | null | null | null |
| 9 | Air Blast | Ghost | Special | 50 | 90 | 15 | 0 | This move has increased critical hit ratio (2x). | Critic Level: 2 | null | null | null | null |
| 145 | Evil Eye | Ghost | Special | 55 | 85 | 10 | 0 | If the foe is afflicted with a status problem, the power of this move doubles. | Double Power On Status Problem Target: Yes | null | null | null | null |
| 193 | Gloom Punch | Ghost | Physical | 65 | 1000 | 15 | 0 | This move inflicts damage and has no secondary effect. | null | null | null | null | null |
| 408 | Shadow Fang | Ghost | Physical | 75 | 80 | 20 | 0 | This move has increased critical hit ratio (2x). | Critic Level: 2 | null | null | null | null |
| 481 | Super Drain | Ghost | Special | 80 | 80 | 5 | 0 | The user gains HP equal to 50% of the damage the opponent took. | Life Absorb Damage Percent: 50 | null | null | null | null |
| 91 | Darkness Ball | Ghost | Special | 80 | 80 | 15 | 0 | This move decreases the enemy's Special Defense stat by 1 stage and will not work once 5 stages are decreased. | SpDefense Decrease: 1 | null | null | null | null |
| 199 | Green Heal | Grass | Status | 0 | 1000 | 10 | 0 | This move will restore user's HP instantly equal to 35% of it's MaximumHP. | Life Gain User MaximumHP Percent: 35 | null | null | null | null |
| 212 | Herbal Guard | Grass | Status | 0 | 1000 | 20 | 0 | This move increases the user's Defense stat by 2 stages and will not work once 5 stages are gained or if the user's Defense stat is 2000. | Defense Gain: 2 | null | null | null | null |
| 206 | Healing Aroma | Grass | Status | 0 | 1000 | 5 | 0 | This move restores all team Monsters sleep, poison, paralysis, freeze, burn, bleed, confuse and sleep problems. | Cure All Status Problems: Yes | Affects All Party: Yes | null | null | null |
| 154 | Fertilize | Grass | Status | 0 | 1000 | 25 | 0 | This move increases the user's Attack and Special Attack stat by 1 stage and will not work once 5 stages are gained. | Attack Gain: 1 | SpAttack Gain: 1 | null | null | null |
| 174 | Fluffy Spore | Grass | Status | 0 | 1000 | 25 | 0 | This move decreases the enemy's Speed stat by 2 stage and will not work once 5 stages are decreased. | Speed Decrease: 2 | null | null | null | null |
| 252 | Insomnia Seed | Grass | Status | 0 | 70 | 10 | 0 | This move has a 100% chance of confusing the foe. | Confuse Probability: 100 | null | null | null | null |
| 487 | Sweet Smell | Grass | Status | 0 | 1000 | 40 | 0 | This move decreases the enemy's Evasion stat by 1 stage and will not work once 5 stages are decreased. | Evasion Decrease: 1 | null | null | null | null |
| 454 | Spore Epidemic | Grass | Status | 0 | 70 | 20 | 0 | This move will cause opponent to fall asleep for 1-5 turns. | Sleep Probability: 100 | null | null | null | null |
| 383 | Reed Lullaby | Grass | Status | 0 | 45 | 20 | 0 | This move will cause opponent to fall asleep for 1-5 turns. | Sleep Probability: 100 | null | null | null | null |
| 393 | Root | Grass | Status | 0 | 1000 | 5 | 0 | This move traps the target, preventing switching and escape. This move restores user's HP equal to 20% of their MaximumHP. | Life Gain User MaximumHP Percent: 20 | Prevent Enemy Switch Monster Turns: 2-5 | null | null | null |
| 341 | Photosynthesis | Grass | Status | 0 | 1000 | 5 | 0 | If weather is cloudy restored HP is equal to 25% of User's MaximumHP else if weather is normal restored HP is equal to 50% of User's MaximumHP else if weather is Cloudless restored HP is equal to 75% of User's MaximumHP. | Cloudless Weather HP Restore: Yes | null | null | null | null |
| 400 | Seed Gun | Grass | Physical | 25 | 80 | 15 | 0 | This move has a 40% chance of hitting 2 times, a 35% chance of hitting 3 times, a 15% chance of hitting 4 times and a 10% chance of hitting 5 times. If first hit be critical hit all other hits will be also critical hit. | Multiple Hit: 2-5 | null | null | null | null |
| 258 | Ivy Lash | Grass | Physical | 45 | 95 | 15 | 0 | This move inflicts damage and has no secondary effect. | null | null | null | null | null |
| 455 | Squeeze | Grass | Physical | 50 | 80 | 20 | 0 | This move decreases the enemy's Speed stat by 1 stage and will not work once 5 stages are decreased. | Speed Decrease: 1 | null | null | null | null |
| 198 | Grass Rope | Grass | Special | 55 | 90 | 25 | 0 | This move inflicts damage and has no secondary effect. | null | null | null | null | null |
| 323 | Mystical Leaves | Grass | Special | 65 | 1000 | 15 | 0 | This move does not miss. | null | null | null | null | null |
| 414 | Sharp Leaf | Grass | Physical | 70 | 90 | 20 | 0 | This move has increased critical hit ratio (2x). | Critic Level: 2 | null | null | null | null |
| 270 | Leaf Tempest | Grass | Special | 70 | 80 | 10 | 0 | This move decreases the enemy's Accuracy stat by 1 stage and will not work once 5 stages are decreased. | Accuracy Decrease: 1 | null | null | null | null |
| 267 | Leaf Claw | Grass | Physical | 75 | 85 | 15 | 0 | This move has a 15% chance of cause bleeding at the foe. This move has increased critical hit ratio (2x). | Bleeding Probability: 15 | Critic Level: 2 | null | null | null |
| 399 | Seed Grenade | Grass | Physical | 75 | 90 | 20 | 0 | This move inflicts damage and has no secondary effect. | null | null | null | null | null |
| 504 | Thorny Strike | Grass | Physical | 75 | 80 | 20 | 0 | This move has a 25% chance to cause the foe to cringe. If the user attacks second, it cannot make the opponent cringe. | Cringe Probability: 25 | null | null | null | null |
| 229 | Hyper Drain | Grass | Special | 90 | 70 | 10 | 0 | The user gains HP equal to 50% of the damage the opponent took. | Life Absorb Damage Percent: 50 | null | null | null | null |
| 269 | Leaf Sword | Grass | Physical | 95 | 80 | 20 | 0 | This move has a 35% chance of causing bleeding to the foe. This move has increased critical hit ratio (2x). | Bleeding Probability: 35 | Critic Level: 2 | null | null | null |
| 36 | Bomb Shell | Grass | Physical | 95 | 85 | 15 | 0 | This move inflicts damage and has no secondary effect. | null | null | null | null | null |
| 449 | Spike Whip | Grass | Physical | 95 | 70 | 10 | 0 | This move increases user's critical chance 1 stage. | Gain Critical: 1 | null | null | null | null |
| 440 | Solar Claw | Grass | Physical | 120 | 95 | 5 | -1 | This move has a 15% chance to cause the foe to cringe. If the user attacks second, it cannot make the opponent cringe. | Cringe Probability: 15 | null | null | null | null |
| 486 | Super Vine | Grass | Physical | 125 | 75 | 10 | 0 | This move has a 25% chance to cause the foe to cringe. If the user attacks second, it cannot make the opponent cringe. | Cringe Probability: 25 | null | null | null | null |
| 33 | Body Slam | Grass | Physical | 125 | 100 | 15 | 0 | The user takes recoil damage equal to 35% of the damage dealt to the Opponent. | Recoil Damage Percent: 35 | null | null | null | null |
| 25 | Berserker Plant | Grass | Special | 150 | 90 | 10 | 0 | After this move used, user will become exhausted and have to rest next turn. | Next Turn Rest: 1 | null | null | null | null |
| 76 | Crash Impact | Grass | Physical | 155 | 95 | 5 | 0 | The user takes recoil damage equal to 55% of the damage dealt to the Opponent. | Recoil Damage Percent: 55 | null | null | null | null |
| 268 | Leaf Hurricane | Grass | Special | 160 | 75 | 5 | 0 | This move decreases the User's Special Attack stat by 2 stages and will not work once 5 stages are decreased. | SpAttack Gain: -2 | null | null | null | null |
| 125 | Dust Throw | Ground | Status | 0 | 1000 | 10 | 0 | This move decreases the enemy's Accuracy stat by 1 stage and will not work once 5 stages are decreased. | Accuracy Decrease: 1 | null | null | null | null |
| 128 | Earth Shock | Ground | Physical | 1 | 100 | 40 | 0 | This move Power varies randomly. This move has a 20% chance of having 15 Power, a 20% chance of having 25 Power, a 15% chance of having 35 Power, a 15% chance of having 45 Power, a 10% chance of having 65 Power, a 10% chance of hav | Constant Random Power: Yes | null | null | null | null |
| 318 | Mud Sling | Ground | Special | 15 | 100 | 15 | 0 | This move decreases the enemy's Accuracy stat by 1 stage and will not work once 5 stages are decreased. | Accuracy Decrease: 1 | null | null | null | null |
| 39 | Bone Slam | Ground | Physical | 25 | 80 | 15 | 0 | This move has a 40% chance of hitting 2 times, a 35% chance of hitting 3 times, a 15% chance of hitting 4 times and a 10% chance of hitting 5 times. If first hit be critical hit all other hits will be also critical hit. | Multiple Hit: 2-5 | null | null | null | null |
| 40 | Boomerang Strike | Ground | Physical | 55 | 80 | 15 | 0 | Hits 2 times in a row. If first hit be critical hit all other hits will be also critical hit. | Multiple Hit: 2 | null | null | null | null |
| 126 | Earth Rage | Ground | Physical | 55 | 95 | 15 | 0 | This move will do double when User's CurrentHP is below half of its MaximumHP. | Double Damage Half User MaximumHP: Yes | null | null | null | null |
| 124 | Dust Illusionist | Ground | Special | 60 | 80 | 20 | 0 | This move decreases the enemy's Accuracy stat by 1 stage and will not work once 5 stages are decreased. | Accuracy Decrease: 1 | null | null | null | null |
| 103 | Disabling Threat | Ground | Physical | 60 | 80 | 20 | 0 | This move decreases the enemy's Speed stat by 1 stage and will not work once 5 stages are decreased. | Speed Decrease: 1 | null | null | null | null |
| 316 | Mud Blast | Ground | Special | 60 | 85 | 10 | 0 | This move decreases the enemy's Speed stat by 1 stage and will not work once 5 stages are decreased. | Speed Decrease: 1 | null | null | null | null |
| 499 | Terrorize | Ground | Physical | 60 | 90 | 10 | 0 | This move decreases the enemy's Speed stat by 1 stage and will not work once 5 stages are decreased. | Speed Decrease: 1 | null | null | null | null |
| 317 | Mud Grenade | Ground | Special | 65 | 75 | 10 | 0 | This move decreases the enemy's Accuracy stat by 1 stage and will not work once 5 stages are decreased. | Accuracy Decrease: 1 | null | null | null | null |
| 392 | Roll Crush | Ground | Physical | 70 | 85 | 20 | 0 | This move has a 35% chance to cause the foe to cringe. If the user attacks second, it cannot make the opponent cringe. | Cringe Probability: 35 | null | null | null | null |
| 173 | Flatten | Ground | Physical | 70 | 85 | 15 | 0 | Flatten inflicts damage and lowers the target's Speed stat by one stage | null | null | null | null | null |
| 49 | Burrow | Ground | Physical | 75 | 95 | 20 | 0 | Requires two turns to use. While in the underground, the user is invulnerable to most of the attacks. | null | null | null | null | null |
| 537 | Vampiric Horn | Ground | Special | 75 | 75 | 10 | 0 | The user gains HP equal to 50% of the damage the opponent took. | Life Absorb Damage Percent: 50 | null | null | null | null |
| 497 | Terra Storm | Ground | Physical | 75 | 75 | 10 | 0 | This move has increased critical hit ratio (5x). | Critic Level: 4 | null | null | null | null |
| 121 | Drill Slam | Ground | Physical | 85 | 85 | 10 | 0 | This move has increased critical hit ratio (2x). | Critic Level: 2 | null | null | null | null |
| 38 | Bone Mace | Ground | Physical | 90 | 80 | 25 | 0 | This move has a 15% chance to cause the foe to cringe. If the user attacks second, it cannot make the opponent cringe. | Cringe Probability: 15 | null | null | null | null |
| 498 | Terraform | Ground | Special | 95 | 80 | 10 | 0 | This move decreases the enemy's Special Defense stat by 1 stage and will not work once 5 stages are decreased. | null | null | null | null | null |
| 188 | Gaia Crush | Ground | Physical | 100 | 75 | 10 | 0 | This move has a 25% chance to cause the foe to cringe. If the user attacks second, it cannot make the opponent cringe. | Cringe Probability: 25 | null | null | null | null |
| 127 | Earth Shaker | Ground | Physical | 120 | 80 | 5 | 0 | This move inflicts damage and has no secondary effect. | null | null | null | null | null |
| 354 | Power Blast | Ground | Special | 120 | 65 | 5 | 0 | This move decreases the enemy's Defense stat by 1 stage and will not work once 5 stages are decreased. | Defense Decrease: 1 | null | null | null | null |
| 396 | Sand Storm | Ground | Physical | 125 | 80 | 10 | -1 | This move inflicts damage and has no secondary effect. | null | null | null | null | null |
| 200 | Ground Shatter | Ground | Physical | 125 | 80 | 5 | 0 | This move has a 25% chance to cause the foe to cringe. If the user attacks second, it cannot make the opponent cringe. | Cringe Probability: 25 | null | null | null | null |
| 162 | Fissure | Ground | Physical | 1000 | 30 | 5 | 0 | If this move successfully hits, it will knock out (KO) the opponent instantly unless opponent does not have any KO preventing effects. | Knock Out: Yes | null | null | null | null |
| 401 | Select Monster | Ice | Special | 0 | 1000 | 50 | 8 | This move only lets you switch your current Monster with another Monster in your team. | null | null | null | null | null |
| 536 | Use Item | Ice | Special | 0 | 1000 | 50 | 8 | This move lets you use item when you are the battle. This item can be used on any monster in the party | null | null | null | null | null |
| 238 | Ice Needles | Ice | Physical | 15 | 100 | 35 | 0 | This move has a 40% chance of hitting 2 times, a 35% chance of hitting 3 times, a 15% chance of hitting 4 times and a 10% chance of hitting 5 times. If first hit be critical hit all other hits will be also critical hit. | Multiple Hit: 2-5 | null | null | null | null |
| 242 | Ice Sword | Ice | Physical | 35 | 100 | 35 | 1 | This move has a 25% chance of cause bleeding at the foe. High priority move. | Bleeding Probability: 25 | null | null | null | null |
| 202 | Hail Stone | Ice | Special | 35 | 95 | 30 | 0 | This move has a 15% chance of freezing the foe. If foe is Burning, this move will extinguish it out. | Freeze Probability: 15 | null | null | null | null |
| 439 | Snowfall | Ice | Special | 40 | 100 | 35 | 0 | This move has a 15% chance of freezing the foe. If foe is Burning, this move will extinguish it out. | Freeze Probability: 15 | null | null | null | null |
| 185 | Frost Breeze | Ice | Special | 45 | 95 | 15 | -1 | Always hit critical. Low priority. | Critic Level: 5 | null | null | null | null |
| 181 | Freezing Breath | Ice | Special | 45 | 80 | 15 | 0 | This move has increased critical hit ratio (5x). This move has a 20% chance of freezing the foe. If foe is Burning, this move will extinguish it out. | Critic Level: 4 | Freeze Probability: 20 | null | null | null |
| 186 | FrostBite | Ice | Special | 50 | 75 | 15 | 0 | This move has a 50% chance of freezing the foe. If foe is Burning, this move will extinguish it out. | Freeze Probability: 50 | null | null | null | null |
| 556 | Wind Chill | Ice | Special | 55 | 90 | 15 | 0 | This move decreases the enemy's Speed stat by 1 stage and will not work once 5 stages are decreased. | Speed Decrease: 1 | null | null | null | null |
| 438 | Snow Rain | Ice | Physical | 60 | 90 | 10 | 0 | This move has a 25% chance of freezing the foe. If foe is Burning, this move will extinguish it out. | Freeze Probability: 25 | null | null | null | null |
| 71 | Corona Ray | Ice | Special | 60 | 95 | 25 | 0 | This move inflicts damage and has no secondary effect. | null | null | null | null | null |
| 192 | Glacier | Ice | Special | 70 | 80 | 15 | 0 | This move increases the user's Speed stat by 1 stage and will not work once 5 stages are gained or if the user's Speed stat is 2000. | Speed Gain: 1 | null | null | null | null |
| 182 | Freezing Fang | Ice | Physical | 70 | 90 | 20 | 0 | This move has a 15% chance to cause the foe to cringe. If the user attacks second, it cannot make the opponent cringe. This move has a 15% chance of freezing the foe. If foe is Burning, this move will extinguish it out. | Freeze Probability: 15 | Cringe Probability: 15 | null | null | null |
| 236 | Ice Claw | Ice | Physical | 75 | 85 | 15 | 0 | This move has a 15% chance of freezing the foe. If foe is Burning, this move will extinguish it out. This move has increased critical hit ratio (2x). | Freeze Probability: 15 | Critic Level: 2 | null | null | null |
| 179 | Freeze Punch | Ice | Physical | 80 | 85 | 15 | 0 | This move has a 15% chance of freezing the foe. If foe is Burning, this move will extinguish it. | Freeze Probability: 15 | null | null | null | null |
| 237 | Ice Fall | Ice | Special | 90 | 80 | 10 | 0 | This move has a 35% chance to cause the foe to cringe. If the user attacks second, it cannot make the opponent cringe. | Cringe Probability: 35 | null | null | null | null |
| 235 | Ice Blade | Ice | Physical | 90 | 85 | 15 | 0 | This move has a 20% chance to cause the foe to cringe. If the user attacks second, it cannot make the opponent cringe. | Cringe Probability: 20 | null | null | null | null |
| 239 | Ice Pillar | Ice | Physical | 95 | 85 | 10 | 0 | This move has a 15% chance of freezing the foe. If foe is Burning, this move will extinguish it out. | Freeze Probability: 15 | null | null | null | null |
| 180 | Freeze Wave | Ice | Special | 95 | 95 | 15 | -1 | This move has a 40% chance of freezing the foe. If foe is Burning, this move will extinguish it out. | Freeze Probability: 40 | null | null | null | null |
| 240 | Ice Ray | Ice | Special | 120 | 80 | 5 | 0 | This move has a 25% chance of freezing the foe. If foe is Burning, this move will extinguish it out. | Freeze Probability: 25 | null | null | null | null |
| 241 | Ice Storm | Ice | Special | 140 | 60 | 10 | 0 | This move has a 35% chance of freezing the foe. If foe is Burning, this move will extinguish it out. | Freeze Probability: 35 | null | null | null | null |
| 456 | Star Freeze | Ice | Special | 150 | 90 | 5 | -1 | This move has a 25% chance of freezing the foe. If foe is Burning, this move will extinguish it out. Low priority move. | Freeze Probability: 25 | null | null | null | null |
| 63 | Cold Crush | Ice | Physical | 155 | 95 | 5 | -1 | Turn consuming move. Next turn user has to rest and can not use any move. Low priority move. | Next Turn Rest: 1 | null | null | null | null |
| 2 | Absolute Zero | Ice | Special | 1000 | 20 | 10 | 0 | If this move successfully hits, it will knock out (KO) the opponent instantly unless opponent does has any KO preventing effects. | Knock Out: Yes | null | null | null | null |
| 480 | Super Cold | Ice | Special | 1000 | 20 | 10 | 0 | If this move successfully hits, it will knock out (KO) the opponent instantly unless opponent has a KO preventing effect. Hit accuracy will be determined by this formula: hit accuracy = ((level of user - level of enemy)+20)% | Knock Out: Yes | null | null | null | null |
| 559 | Wishing Star | Light | Status | 0 | 1000 | 15 | 0 | This move will restore user's HP instantly equal to 25% of it's MaximumHP. | Life Gain User MaximumHP Percent: 25 | null | null | null | null |
| 410 | Shadow Purge | Light | Status | 0 | 1000 | 5 | 1 | Turn consuming move. Next turn user has to rest and can not use any move. This move recovers user's HP equal to 75% of its MaximumHP. High priority move. | Next Turn Rest: 1 | Life Gain User MaximumHP Percent: 75 | null | null | null |
| 322 | Mystic Dance | Light | Status | 0 | 1000 | 5 | 0 | This move increases the user's Special Attack, Special Defense, and Speed stats by 1 stage and will not work once 5 stages are gained or if the user's increased stat is 2000. | Speed Gain: 1 | SpAttack Gain: 1 | SpDefense Gain: 1 | null | null |
| 43 | Bright Light | Light | Status | 0 | 1000 | 40 | 0 | This move decreases the enemy's Accuracy stat by 1 stage and will not work once 5 stages are decreased. | Accuracy Decrease: 1 | null | null | null | null |
| 98 | Destroy Clouds | Light | Status | 0 | 1000 | 5 | 0 | This move makes the weather Cloudless for entire battle. Cloudless weather decreases water and ice type moves power by 25% and increases fire and light type moves power by 25%. | Makes Weather Cloudless: Yes | null | null | null | null |
| 273 | Light Armor | Light | Status | 0 | 1000 | 20 | 0 | This move increases the user's Special Defense stat by 1 stages and will not work once 5 stages are gained or if the user's Speed stat is 2000. | SpDefense Gain: 2 | null | null | null | null |
| 279 | Light Restore | Light | Status | 0 | 1000 | 5 | 0 | If weather is cloudy restored HP is equal to 25% of User's MaximumHP. If weather is normal restored HP is equal to 50% of User's MaximumHP. If weather is Cloudless restored HP is equal to 75% of User's MaximumHP. | Cloudless Weather HP Restore: Yes | null | null | null | null |
| 281 | Light Up | Light | Status | 0 | 1000 | 40 | 0 | This move decreases the enemy's Accuracy stat by 1 stage and will not work once 5 stages are decreased. | Accuracy Decrease: 1 | null | null | null | null |
| 194 | Glowing Tail | Light | Status | 0 | 1000 | 10 | -2 | This move increases the user's Special Attack stat by 3 stage and will not work once 5 stages are gained or if the user's Special Attack stat is 2000. Low priority move. | Attack Gain: 3 | null | null | null | null |
| 278 | Light Rays | Light | Special | 40 | 60 | 15 | 0 | This move has a 40% chance of hitting 2 times, a 35% chance of hitting 3 times, a 15% chance of hitting 4 times and a 10% chance of hitting 5 times. If first hit be critical hit all other hits will be also critical hit. | Multiple Hit: 2-5 | null | null | null | null |
| 54 | Charged Ray | Light | Special | 50 | 85 | 10 | 0 | This move increases the user's Special Attack stat by 1 stage and will not work once 5 stages are gained. | SpAttack Gain: 1 | null | null | null | null |
| 478 | Sunlight | Light | Special | 60 | 90 | 15 | 0 | This move inflicts double damage if weather is Cloudless. | Double Damage If Cloudless Weather: Yes | null | null | null | null |
| 276 | Light Fang | Light | Physical | 65 | 95 | 15 | 0 | This move inflicts damage and has no secondary effect. | null | null | null | null | null |
| 285 | Lightning Sword | Light | Special | 65 | 85 | 15 | 0 | This move has increased critical hit ratio (2x). | null | null | null | null | null |
| 172 | Flash Ray | Light | Special | 70 | 90 | 20 | 0 | This move has 15% chance to confuse target for 1-5 turns. | Confuse Probability: 15 | null | null | null | null |
| 92 | Dazzle Blast | Light | Special | 75 | 75 | 15 | 0 | This move decreases the enemy's Accuracy stat by 1 stage and will not work once 5 stages are decreased. | Accuracy Decrease: 1 | null | null | null | null |
| 140 | Energy Jewel | Light | Special | 75 | 90 | 25 | 0 | This move inflicts damage and has no secondary effect. | null | null | null | null | null |
| 458 | Star Ray | Light | Special | 75 | 1000 | 5 | 0 | This move inflicts damage and has no secondary effect. | null | null | null | null | null |
| 275 | Light Bolt | Light | Special | 80 | 85 | 15 | 0 | This move inflicts damage and has no secondary effect. | null | null | null | null | null |
| 274 | Light Blast | Light | Special | 85 | 80 | 10 | 0 | This move decreases the enemy's Special Defense stat by 1 stage and will not work once 5 stages are decreased. | SpDefense Decrease: 1 | null | null | null | null |
| 20 | Aura Orb | Light | Special | 85 | 1000 | 5 | 0 | This move does not miss. | null | null | null | null | null |
| 282 | Light Wave | Light | Special | 90 | 70 | 5 | 0 | This move decreases the enemy's Accuracy stat by 1 stage and will not work once 5 stages are decreased. | Accuracy Decrease: 1 | null | null | null | null |
| 379 | Ray Cannon | Light | Special | 90 | 75 | 15 | 0 | This move decreases the enemy's Special Defense stat by 1 stage and will not work once 5 stages are decreased. | SpDefense Decrease: 1 | null | null | null | null |
| 280 | Light Slash | Light | Physical | 95 | 85 | 10 | 0 | This move inflicts damage and has no secondary effect. | null | null | null | null | null |
| 277 | Light Purge | Light | Special | 95 | 85 | 5 | 0 | This move decreases the enemy's Special Defense stat by 1 stage and will not work once 5 stages are decreased. | SpDefense Decrease: 1 | null | null | null | null |
| 74 | Cosmic Cyclone | Light | Special | 95 | 85 | 10 | -1 | This move decreases the enemy's Accuracy stat by 1 stage and will not work once 5 stages are decreased. Low priority move. | Accuracy Decrease: 1 | null | null | null | null |
| 442 | Solar Wind | Light | Special | 120 | 80 | 5 | -1 | This move has a 30% chance of burning the foe. If foe is Frozen, this move will thaw it out. | Burn Probability: 30 | null | null | null | null |
| 529 | Triple Ray | Light | Special | 120 | 60 | 15 | 0 | This move has a 15% chance of burning the foe. This move has a 15% chance of freezing the foe. This move has a 15% chance of paralyzing the foe. | Freeze Probability: 15 | Paralyze Probability: 15 | Burn Probability: 15 | null | null |
| 441 | Solar Ray | Light | Special | 140 | 95 | 10 | 0 | Requires two turns to use. First turn stores energy and at second turn hits. Move preventing status problems will end this move. If a monster is Frozen, this move will thaw it out. User can not change Monster or use another move until move co | Multiple Turn To Complete: 2 | null | null | null | null |
| 479 | Super Beam | Light | Special | 150 | 90 | 5 | 0 | Requires two turns to use. First turn focuses energy and at second turn hits. Move preventing status problems will end this move. If a monster is Frozen, this move will thaw it out. User can not change Monster or use another move until move c | Multiple Turn To Complete: 2 | null | null | null | null |
| 13 | Ancient Light | Light | Special | 150 | 50 | 5 | 0 | This move decreases the enemy's Accuracy stat by 2 stages and will not work once 5 stages are decreased. | Accuracy Decrease: 2 | null | null | null | null |
| 19 | Aura Heal | Normal | Status | 0 | 1000 | 5 | 0 | This move heals every team member, even if they are not at the battleground. This move restores 20% of team Monsters MaximumHP. | Affects All Party: Yes | Life Gain User MaximumHP Percent: 20 | null | null | null |
| 8 | Agility | Normal | Status | 0 | 1000 | 40 | 0 | This move increases the user's Speed stat by 1 stage and will not work once 5 stages are gained or if the user's Speed stat is 2000. | Speed Gain: 1 | null | null | null | null |
| 26 | Black Mist | Normal | Status | 0 | 1000 | 5 | 0 | This move effects simply reset the stat levels of both active Monsters to 0. | Reset All Stat Gains: Yes | null | null | null | null |
| 70 | Copycat | Normal | Status | 0 | 1000 | 10 | -10 | This move copies the enemy's last used move. New move will be useable for only that battle | Copies Last Used Move: Yes | null | null | null | null |
| 77 | Cripple | Normal | Status | 0 | 1000 | 40 | 0 | This move decreases the enemy's Accuracy stat by 1 stage and will not work once 5 stages are decreased. | Accuracy Decrease: 1 | null | null | null | null |
| 66 | Concentration Rest | Normal | Status | 0 | 1000 | 5 | 0 | This move fully restores user's MaximumHP. User can not change Monster or use another move until move completed. | Life Gain User MaximumHP Percent: 100 | Multiple Turn To Complete: 2 | null | null | null |
| 59 | Claw Sharpen | Normal | Status | 0 | 1000 | 40 | 0 | This move increases the user's Attack stat by 1 stage and will not work once 5 stages are gained. | Attack Gain: 1 | null | null | null | null |
| 56 | Chest Beat | Normal | Status | 0 | 1000 | 10 | 0 | This move increases the user's Attack stat by 10 stages and decreases Defense stat 10 stages. Though stat stages cannot pass +5 and -5. | Attack Gain: 10 | Defense Gain: -10 | null | null | null |
| 51 | Camouflage | Normal | Status | 0 | 1000 | 15 | 0 | This move increases the user's Evasion stat by 2 stage and will not work once 5 stages are increased. | Evasion Gain: 2 | null | null | null | null |
| 83 | Curl Up | Normal | Status | 0 | 1000 | 45 | 0 | This move increases the user's Defense stat by 1 stage and will not work once 5 stages are gained or if the user's Defense stat is 2000. | Defense Gain: 1 | null | null | null | null |
| 106 | Double Time | Normal | Status | 0 | 1000 | 10 | 0 | This move increases the user's Evasion stat by 2 stage and will not work once 5 stages are increased. | Evasion Gain: 2 | null | null | null | null |
| 139 | Encase | Normal | Status | 0 | 1000 | 40 | 0 | This move increases the user's Defense stat by 1 stage and will not work once 5 stages are gained or if the user's Defense stat is 2000. | Defense Gain: 1 | null | null | null | null |
| 144 | Equality | Normal | Physical | 0 | 1000 | 5 | 0 | This move makes target's HP equal to user's HP. | Makes Target HP Equal To User: Yes | null | null | null | null |
| 262 | Knife Dance | Normal | Status | 0 | 1000 | 25 | 0 | This move increases the user's Attack stat by 2 stages and will not work once 5 stages are gained. | Attack Gain: 2 | null | null | null | null |
| 223 | Horrifying Stare | Normal | Status | 0 | 90 | 35 | 0 | This move decreases the enemy's Attack stat by 2 stage and will not work once 5 stages are decreased. | Attack Decrease: 2 | null | null | null | null |
| 225 | Howl | Normal | Status | 0 | 1000 | 40 | 0 | This move decreases the enemy's Attack stat by 1 stage and will not work once 5 stages are decreased. | Attack Decrease: 1 | null | null | null | null |
| 183 | Fright Face | Normal | Status | 0 | 1000 | 25 | 0 | This move decreases the enemy's Speed stat by 2 stage and will not work once 5 stages are decreased. | Speed Decrease: 2 | null | null | null | null |
| 208 | Healing Chime | Normal | Status | 0 | 1000 | 5 | 0 | This move removes team's status problems, including sleep, poison, paralysis, freeze, burn, bleed, confuse and sleep. | Cure All Status Problems: Yes | Affects All Party: Yes | null | null | null |
| 475 | Strange Dance | Normal | Status | 0 | 80 | 10 | 0 | This move will cause opponent to fall asleep for 1-5 turns. | Sleep Probability: 100 | null | null | null | null |
| 471 | Stone Skin | Normal | Physical | 0 | 1000 | 5 | 0 | This move increases the user's Defense and Special Defense stat by 2 stages and will not work once 5 stages are gained or if the user's increased stat is 2000. | Defense Gain: 2 | SpDefense Gain: 2 | null | null | null |
| 490 | Tail Wag | Normal | Status | 0 | 1000 | 40 | 0 | This move decreases the enemy's Defense stat by 1 stage and will not work once 5 stages are decreased. | Defense Decrease: 1 | null | null | null | null |
| 445 | Sound Wave | Normal | Status | 0 | 65 | 12 | 0 | If this move hits, target will become confused for 1-5 turns. | Confuse Probability: 100 | null | null | null | null |
| 526 | Tricky Fun | Normal | Status | 0 | 1000 | 10 | 0 | This move decreases the enemy's Special Attack stat by 2 stage and will not work once 5 stages are decreased. | SpAttack Decrease: 2 | null | null | null | null |
| 514 | Tickle | Normal | Status | 0 | 75 | 25 | 0 | This move decreases the enemy's Attack, Defense and Accuracy stats by 1 stage and will not work once 5 stages are decreased. | Attack Decrease: 1 | Defense Decrease: 1 | Accuracy Decrease: 1 | null | null |
| 515 | Topple Dance | Normal | Status | 0 | 80 | 20 | 0 | If this move hits, target will become confused for 1-5 turns. | Confuse Probability: 100 | null | null | null | null |
| 562 | Work Out | Normal | Status | 0 | 1000 | 5 | 0 | This move increases the user's Attack, Special Attack, and Speed stat by 1 stage and will not work once 5 stages are gained or if the user's increased stat is 2000. | Attack Gain: 1 | SpAttack Gain: 1 | Speed Gain: 1 | null | null |
| 564 | Rest | Normal | Status | 0 | 100 | 5 | 0 | null | null | null | null | null | null |
| 382 | Recover Rest | Normal | Status | 0 | 1000 | 10 | 0 | This move will restore user's HP instantly equal to 35% of it's MaximumHP. | Life Gain User MaximumHP Percent: 35 | null | null | null | null |
| 385 | Regular Heal | Normal | Status | 0 | 1000 | 5 | 0 | This move restores user's half of the Maximum HP. | Life Gain User MaximumHP Percent: 50 | null | null | null | null |
| 386 | Rejuvenate | Normal | Status | 0 | 1000 | 15 | 0 | This move restores user's sleep, poison, paralysis, freeze, and burn problems. | Cure All Status Problems: Yes | null | null | null | null |
| 360 | Pressure | Normal | Status | 0 | 1000 | 30 | 0 | This move chooses one of the user's Stats at random and raises it by 2 stages. It can raise one of the user's Attack, Defense, Speed, Special Attack, Special Defense, Accuracy or Evasion stat. | Random Stat Gain: 2 | null | null | null | null |
| 363 | Provoke | Normal | Status | 0 | 85 | 10 | 0 | This move has a 100% chance of confusing the foe. This move increases the foe's Attack stat by 2 stages and will not work once 5 stages are gained or if the foes's increased stat is 2000. | Confuse Probability: 100 | Attack Decrease: -2 | null | null | null |
| 421 | Shriek | Normal | Status | 0 | 95 | 30 | 0 | This move decreases the enemy's Defense stat by 2 stage and will not work once 5 stages are decreased. | Defense Decrease: 2 | null | null | null | null |
| 422 | Shrink | Normal | Status | 0 | 1000 | 40 | 0 | This move increases the user's Evasion stat by 1 stage and will not work once 5 stages are increased. | Evasion Gain: 1 | null | null | null | null |
| 424 | Size Up | Normal | Status | 0 | 1000 | 40 | 0 | This move decreases the enemy's Defense stat by 1 stage and will not work once 5 stages are decreased. | Defense Decrease: 1 | null | null | null | null |
| 330 | Odd Dance | Normal | Status | 0 | 1000 | 20 | 0 | This move decreases the enemy's Defense stat by 2 stages and will not work once 5 stages are decreased. | Defense Decrease: 2 | null | null | null | null |
| 320 | Mysterious Blow | Normal | Special | 0 | 1000 | 10 | 0 | This move has a 30% chance of doing 15 damage, a 25% chance of doing 25 damage, a 20% chance of doing 35 damage, a 15% chance of doing 45 damage, a 5% chance of doing 60 damage and a 5% chance of doing 80 damage. | Constant Random Damage: Yes | null | null | null | null |
| 312 | Mix Up | Normal | Status | 0 | 70 | 15 | 0 | This move has a 100% chance of confusing the foe. | Confuse Probability: 100 | null | null | null | null |
| 289 | Lullaby | Normal | Status | 0 | 40 | 15 | 0 | This move will cause opponent to fall asleep for 1-5 turns. | Sleep Probability: 100 | null | null | null | null |
| 561 | Wobble | Normal | Physical | 1 | 100 | 40 | 0 | This move has a 30% chance of doing 15 damage, a 25% chance of doing 25 damage, a 20% chance of doing 35 damage, a 15% chance of doing 45 damage, a 5% chance of doing 60 damage and a 5% chance of doing 80 damage. | Constant Random Damage: Yes | null | null | null | null |
| 535 | Unique Attack | Normal | Special | 1 | 100 | 10 | 0 | This move Power is calculated with this formula: Sum Of UV (Unique Values - Maximum 50 For Each stat) / 2. With this formula this move Maximum Power will be 150. | UV Based Attack: Yes | null | null | null | null |
| 444 | Sound Blast | Normal | Special | 1 | 100 | 25 | 0 | This move always deals 45 damage and has a critical hit ratio of 0%. | Constant Damage: 45 | null | null | null | null |
| 431 | Sleeping Strike | Normal | Status | 1 | 85 | 25 | 0 | This move has a 30% chance of doing 15 damage, a 25% chance of doing 25 damage, a 20% chance of doing 35 damage, a 15% chance of doing 45 damage, a 5% chance of doing 60 damage and a 5% chance of doing 80 damage. | Constant Random Damage: Yes | null | null | null | null |
| 81 | Crush Strike | Normal | Physical | 1 | 100 | 25 | 0 | This move inflict damage based on user's level and luck. Damage formula is like this : (Random Number) X (User's Level/5) where Random Number is between 1-8. This move will do at least 1 damage. | Level Based Random Damage: Yes | null | null | null | null |
| 30 | Bloody Fang | Normal | Physical | 1 | 85 | 15 | 0 | This move halves the Opponent's current hp. | Opponent Current Hp Damage Percent: 50 | null | null | null | null |
| 335 | Particle Rain | Normal | Physical | 25 | 85 | 10 | 0 | This move has a 40% chance of hitting 2 times, a 35% chance of hitting 3 times, a 15% chance of hitting 4 times and a 10% chance of hitting 5 times. If first hit be critical hit all other hits will be also critical hit. | Multiple Hit: 2-5 | null | null | null | null |
| 122 | Dual Hit | Normal | Physical | 30 | 85 | 15 | 0 | Hits 2 times in a row. If first hit be critical hit all other hits will be also critical hit. | Multiple Hit: 2 | null | null | null | null |
| 52 | Careful Strike | Normal | Physical | 35 | 100 | 5 | 0 | This move will not cause target to faint and leaves it with at least 1 HP. Useful for catching wild Monsters. | Opponent Left With At Least 1 Hp: Yes | null | null | null | null |
| 219 | Hoodwink | Normal | Physical | 35 | 80 | 20 | 2 | This move decreases the enemy's Accuracy stat by 1 stage and will not work once 5 stages are decreased. High priority move. | null | null | null | null | null |
| 361 | Prevent | Normal | Physical | 35 | 100 | 15 | 0 | This move prevent enemy switch Monster for 2-5 turns. | Prevent Enemy Switch Monster Turns: 2-5 | null | null | null | null |
| 477 | Strike | Normal | Physical | 35 | 100 | 40 | 0 | This move inflicts damage and has no secondary effect. | null | null | null | null | null |
| 517 | Tornado Spin | Normal | Physical | 35 | 100 | 40 | 0 | This move rescues user from trap and cancels the trap move. | null | null | null | null | null |
| 378 | Rapid Strike | Normal | Physical | 40 | 100 | 35 | 1 | High priority move. | null | null | null | null | null |
| 196 | Gold Toss | Normal | Physical | 40 | 100 | 40 | 0 | This move inflicts damage and has no secondary effect. | null | null | null | null | null |
| 129 | Echo | Normal | Special | 45 | 90 | 15 | 0 | This move has 25% chance to confuse target for 1-5 turns. | Confuse Probability: 25 | null | null | null | null |
| 493 | Tear | Normal | Physical | 45 | 95 | 30 | 0 | This move inflicts damage and has no secondary effect. | null | null | null | null | null |
| 432 | Slice | Normal | Physical | 55 | 95 | 25 | 0 | Can be used outside of battle to cut down small trees blocking a pathway. If any Monster at your team has this move you can pass through small trees on the world map. | null | null | null | null | null |
| 362 | Prior Strike | Normal | Physical | 55 | 85 | 15 | 3 | This move has a 25% chance to cause the foe to cringe. If the user attacks second, it cannot make the opponent cringe. Very high priority move. | Cringe Probability: 25 | null | null | null | null |
| 222 | Horrifying Sound | Normal | Special | 55 | 80 | 20 | 0 | This move has a 25% chance of paralyzing the foe. | Paralyze Probability: 25 | null | null | null | null |
| 79 | Crush | Normal | Physical | 60 | 95 | 25 | 0 | This move inflicts damage and has no secondary effect. | null | null | null | null | null |
| 31 | Body Charge | Normal | Physical | 60 | 90 | 30 | 0 | This move inflicts damage and has no secondary effect. | null | null | null | null | null |
| 525 | Trample | Normal | Physical | 60 | 85 | 25 | 0 | This move has a 35% chance to cause the foe to cringe. If the user attacks second, it cannot make the opponent cringe. | Cringe Probability: 35 | null | null | null | null |
| 342 | Pick | Normal | Physical | 65 | 80 | 25 | 0 | This move has a 40% chance of cause bleeding at the foe. | Bleeding Probability: 40 | null | null | null | null |
| 220 | Horn Stab | Normal | Physical | 65 | 90 | 25 | 0 | This move inflicts damage and has no secondary effect. | null | null | null | null | null |
| 413 | Sharp Blade | Normal | Physical | 75 | 85 | 10 | 0 | This move has a 15% chance to cause bleeding on the foe. | Bleeding Probability: 15 | null | null | null | null |
| 492 | Take Revenge | Normal | Physical | 75 | 90 | 5 | 0 | The attack only doubles in power if it is used second and only if hit by an opponent first. | Double Power If Goes Last: Yes | null | null | null | null |
| 494 | Technical Blast | Normal | Special | 80 | 95 | 5 | 0 | This move inflicts damage and has no secondary effect. | null | null | null | null | null |
| 151 | Extreme Strike | Normal | Physical | 80 | 90 | 5 | 0 | High priority move. | null | null | null | null | null |
| 80 | Crush Grip | Normal | Physical | 80 | 80 | 10 | 0 | This move decreases the enemy's Defense stat by 1 stage and will not work once 5 stages are decreased. | Defense Decrease: 1 | null | null | null | null |
| 153 | Fang Strike | Normal | Physical | 90 | 85 | 15 | 0 | This move has a 15% chance to cause the foe to cringe. If the user attacks with this move a second time, it cannot make the opponent cringe. | Cringe Probability: 15 | null | null | null | null |
| 484 | Super Punch | Normal | Physical | 90 | 85 | 10 | 0 | This move inflicts damage and has no secondary effect. | null | null | null | null | null |
| 533 | Unbearable Snore | Normal | Special | 90 | 100 | 20 | 0 | This move must be used when the user is asleep. | Works On Sleeping Foe: Yes | null | null | null | null |
| 376 | Ram | Normal | Physical | 90 | 80 | 10 | 0 | This move has a 35% chance to cause the foe to cringe. If the user attacks second, it cannot make the opponent cringe. This move can be used outside of battle. Certain trees can be hit with this move to knock Monsters out of the trees for battle. | Cringe Probability: 35 | null | null | null | null |
| 381 | Razor Tail | Normal | Physical | 90 | 90 | 15 | 0 | This move inflicts damage and has no secondary effect. | null | null | null | null | null |
| 301 | Mega Tackle | Normal | Physical | 95 | 95 | 25 | 0 | The user takes recoil damage equal to 30% of the damage dealt to the Opponent | Recoil Damage Percent: 30 | null | null | null | null |
| 555 | Wind Blade | Normal | Special | 95 | 95 | 10 | 0 | This move charges the first turn in which it creates a cyclone and then uses the cyclone to attack on the second turn. This move has increased critical hit ratio (2x). Move preventing status problems will end this move. User can not change Mons | Critic Level: 2 | Multiple Turn To Complete: 2 | null | null | null |
| 429 | Slashing Strike | Normal | Physical | 95 | 90 | 10 | -1 | This move has increased critical hit ratio (2x). | Critic Level: 2 | null | null | null | null |
| 197 | Gore | Normal | Physical | 95 | 75 | 20 | 0 | This move has increased critical hit ratio (2x). | Critic Level: 2 | null | null | null | null |
| 214 | High Jump | Normal | Physical | 95 | 95 | 10 | 0 | Requires two turns to use. User can not change Monster or use another move until move is completed. This move has a 25% chance of paralyzing the foe. | Multiple Turn To Complete: 2 | Paralyze Probability: 25 | null | null | null |
| 82 | Cry Out | Normal | Special | 95 | 85 | 10 | 0 | This move has a 25% chance of paralyzing the foe. | Paralyze Probability: 25 | null | null | null | null |
| 141 | Enigma Power | Normal | Physical | 95 | 75 | 10 | 0 | This move has a 5% chance of inflict paralyzing, bleeding, freezing, burning, poisoning, confusing status problems to enemy. | May Affect All Kind Of Status Problems: Yes | null | null | null | null |
| 138 | Elemental Blast | Normal | Special | 95 | 85 | 15 | 0 | This move inflicts damage and has no secondary effect. | null | null | null | null | null |
| 34 | Body Smash | Normal | Physical | 95 | 75 | 10 | 0 | This move has a 35% chance of paralyzing the foe. | Paralyze Probability: 35 | null | null | null | null |
| 149 | Extraordinary Strike | Normal | Physical | 100 | 60 | 15 | 0 | This move has a 15% chance of poisoning the target. This move has a 15% chance of paralyzing the foe. This move has a 15% chance to cause the foe to cringe. If the user attacks second, it cannot make the opponent cringe. | Poison Probability: 15 | Paralyze Probability: 15 | Cringe Probability: 15 | null | null |
| 228 | Hyper Claw | Normal | Physical | 100 | 85 | 10 | 0 | This move inflicts damage and has no secondary effect. | null | null | null | null | null |
| 232 | Hyper Sound | Normal | Special | 100 | 80 | 15 | 0 | This move has a 25% chance to cause the foe to cringe. If the user attacks second, it cannot make the opponent cringe. | Cringe Probability: 25 | null | null | null | null |
| 358 | Powerful Throw | Normal | Physical | 100 | 80 | 10 | 0 | Powerful Throw can move special boulders outside of battle. If any Monster in your team knows this move you can pass through certain rocks. | null | null | null | null | null |
| 420 | Shoulder Slam | Normal | Physical | 100 | 70 | 20 | 0 | This move inflicts damage and has no secondary effect. | null | null | null | null | null |
| 425 | Skull Ram | Normal | Physical | 120 | 90 | 15 | 0 | Requires two turns to use. First turn bows its head and hits on the second turn. Move preventing status problems will end this move. User can not change Monster or use another move until move completed. | Multiple Turn To Complete: 2 | null | null | null | null |
| 94 | Deafening Song | Normal | Special | 120 | 80 | 5 | 0 | This move has 15% chance to confuse target for 1-5 turns. | Confuse Probability: 15 | null | null | null | null |
| 142 | Enrage | Normal | Physical | 130 | 95 | 10 | -1 | Turn consuming move. Next turn user has to rest and can not use any move. Low priority move. | Next Turn Rest: 1 | null | null | null | null |
| 231 | Hyper Kick | Normal | Physical | 135 | 55 | 10 | 0 | This move inflicts damage and has no secondary effect. | null | null | null | null | null |
| 352 | Pounce | Normal | Physical | 140 | 80 | 5 | 0 | This move requires 2 turn to complete. First turn gathers power and then second turn inflicts damage. This move has increased critical hit ratio (2x). This move has a 35% chance to cause the foe to cringe. If the user attacks second, it cannot ma | Multiple Turn To Complete: 2 | Critic Level: 2 | Cringe Probability: 35 | null | null |
| 336 | Pay Strike | Normal | Physical | 145 | 85 | 10 | 0 | The user takes recoil damage equal to 35% of the damage dealt to the Opponent | Recoil Damage Percent: 35 | null | null | null | null |
| 288 | Luck Try | Normal | Special | 150 | 45 | 5 | 0 | This move inflicts damage and has no secondary effect. | null | null | null | null | null |
| 265 | Last Chance | Normal | Physical | 150 | 40 | 5 | 0 | This move has very low hit chance. | null | null | null | null | null |
| 191 | Giga Charge | Normal | Physical | 160 | 95 | 5 | 0 | Requires two turns to use. First turn user charges its power and deals damage second turn. Move preventing status problems will end this move. If a monster is Frozen, this move will thaw it out. User can not change Monster or use another mo | Multiple Turn To Complete: 2 | null | null | null | null |
| 147 | Executioner Strike | Normal | Special | 1000 | 20 | 10 | 0 | If this move successfully hits, it will knock out (KO) the opponent instantly unless opponent has a KO preventing effect. | Knock Out: Yes | null | null | null | null |
| 120 | Drill Horn | Normal | Physical | 1000 | 15 | 15 | 0 | If this move successfully hits, it will knock out (KO) the opponent instantly unless opponent has a KO preventing effect. | Knock Out: Yes | null | null | null | null |
| 402 | Self Explosion | Normal | Physical | 1000 | 1000 | 5 | 0 | If this move successfully hits, it will knock out (KO) the opponent instantly unless opponent does has a KO preventing effect. After this move is used, user will fainted. | Knock Out: Yes | Recoil Damage Percent: 100 | null | null | null |
| 334 | Paralyzing Dust | Poison | Status | 0 | 75 | 35 | 0 | This move has a 100% chance of paralyzing the foe. | Paralyze Probability: 100 | null | null | null | null |
| 350 | Poison Ring | Poison | Status | 0 | 1000 | 10 | 0 | This move will restore user's HP instantly equal to 35% of it's MaximumHP. | Life Gain User MaximumHP Percent: 35 | null | null | null | null |
| 351 | Poison Thorns | Poison | Status | 0 | 90 | 20 | 0 | This move has a 100% chance of poisoning the target. | Poison Probability: 100 | null | null | null | null |
| 347 | Poison Cloud | Poison | Status | 0 | 1000 | 5 | 0 | This move increases the user's Attack, Defense, and Accuracy stats by 1 stage and will not work once 5 stages are gained or if the user's increased stat is 2000. | Attack Gain: 1 | Defense Gain: 1 | Accuracy Gain: 1 | null | null |
| 348 | Poison Dust | Poison | Status | 0 | 80 | 30 | 0 | This move has a 100% chance of poisoning the target. | Poison Probability: 100 | null | null | null | null |
| 430 | Sleep Dust | Poison | Status | 0 | 55 | 40 | 0 | This move will cause opponent to fall asleep for 1-5 turns. | Sleep Probability: 100 | null | null | null | null |
| 503 | Thick Smoke | Poison | Status | 0 | 95 | 30 | 0 | This move decreases the enemy's Accuracy stat by 1 stage and will not work once 5 stages are decreased. | Accuracy Decrease: 1 | null | null | null | null |
| 328 | Needle Storm | Poison | Special | 15 | 85 | 20 | 0 | This move has a 40% chance of hitting 2 times, a 35% chance of hitting 3 times, a 15% chance of hitting 4 times and a 10% chance of hitting 5 times. If first hit be critical hit all other hits will be also critical hit. This move has a 25% chance of p | Multiple Hit: 2-5 | null | null | null | null |
| 349 | Poison Needle | Poison | Physical | 25 | 100 | 35 | 0 | This move has a 35% chance of poisoning the target. | Poison Probability: 35 | null | null | null | null |
| 502 | Thick Smog | Poison | Special | 25 | 85 | 40 | 0 | This move has a 50% chance of poisoning the target. | Poison Probability: 50 | null | null | null | null |
| 519 | Toxic Bite | Poison | Special | 25 | 95 | 10 | 0 | This move has a 85% chance of poisoning the target. | Poison Probability: 85 | null | null | null | null |
| 72 | Corrosion | Poison | Special | 25 | 100 | 15 | 0 | This move decreases the enemy's Special Defense stat by 2 stages and will not work once 5 stages are decreased. | SpDefense Decrease: 2 | null | null | null | null |
| 46 | Burning Acid | Poison | Physical | 40 | 100 | 10 | 0 | This move has a 15% chance of burning the foe. If foe is Frozen, this move will thaw it out. | Burn Probability: 15 | null | null | null | null |
| 73 | Corrosive Acid | Poison | Special | 50 | 80 | 15 | 0 | This move decreases the enemy's Defense stat by 1 stage and will not work once 5 stages are decreased. | Defense Decrease: 1 | null | null | null | null |
| 58 | Clarity | Poison | Special | 50 | 90 | 20 | 0 | This move inflicts damage and resets all stat levels of the target to 0. | Reset All Stat Gains Only Foe: Yes | null | null | null | null |
| 3 | Acid Spit | Poison | Special | 50 | 95 | 25 | 0 | This move inflicts damage and has no secondary effect. | null | null | null | null | null |
| 521 | Toxic Fang | Poison | Physical | 55 | 75 | 10 | 0 | This move has a 100% chance of poisoning the target. | Poison Probability: 100 | null | null | null | null |
| 522 | Toxic Gas | Poison | Special | 55 | 75 | 20 | 0 | This move has a 70% chance of poisoning the target. | Poison Probability: 70 | null | null | null | null |
| 541 | Venomous Strike | Poison | Physical | 55 | 80 | 30 | 0 | This move has a 35% chance of poisoning the target. This move has increased critical hit ratio (2x). | Critic Level: 2 | Poison Probability: 50 | null | null | null |
| 524 | Toxical Spit | Poison | Special | 75 | 70 | 20 | 0 | This move has a 100% chance of poisoning the target. | Poison Probability: 100 | null | null | null | null |
| 520 | Toxic Claw | Poison | Physical | 75 | 85 | 15 | 0 | This move has a 15% chance of poisoning the target. This move has increased critical hit ratio (2x). | Poison Probability: 15 | Critic Level: 2 | null | null | null |
| 346 | Poison Blade | Poison | Physical | 75 | 75 | 30 | 0 | This move has a 50% chance of poisoning the target. This move has increased critical hit ratio (2x). | Poison Probability: 50 | Critic Level: 2 | null | null | null |
| 434 | Slime | Poison | Special | 85 | 75 | 20 | 0 | This move has a 35% chance of poisoning the target. | Poison Probability: 35 | null | null | null | null |
| 540 | Venom Punch | Poison | Physical | 90 | 75 | 15 | 0 | This move has a 40% chance of poisoning the target. | Poison Probability: 40 | null | null | null | null |
| 435 | Slime Blast | Poison | Special | 95 | 80 | 10 | 0 | This move has a 40% chance of poisoning the target. | Poison Probability: 40 | null | null | null | null |
| 437 | Sludge Wave | Poison | Special | 100 | 80 | 10 | 0 | This move has a 15% chance of poisoning the target. | Poison Probability: 15 | null | null | null | null |
| 152 | Fallout | Poison | Special | 120 | 80 | 5 | -1 | This move has a 80% chance of poisoning the target. | Poison Probability: 80 | null | null | null | null |
| 315 | Muck Shot | Poison | Special | 135 | 60 | 5 | 0 | This move has a 35% chance of poisoning the target. | Poison Probability: 35 | null | null | null | null |
| 321 | Mystery Room | Psychic | Status | 0 | 1000 | 15 | 0 | This move increases the user's Defense and Speed stat by 1 stage and will not work once 5 stages are gained or if the user's increased stat is 2000. | Defense Gain: 1 | Speed Gain: 1 | null | null | null |
| 309 | Mind Control | Psychic | Status | 0 | 1000 | 5 | 0 | If this move hits, target will become confused for 1-5 turns. | Confuse Probability: 100 | null | null | null | null |
| 310 | Mind Shift | Psychic | Status | 0 | 1000 | 25 | 0 | This move decreases the enemy's Accuracy stat by 1 stage and will not work once 5 stages are decreased. | Accuracy Decrease: 1 | null | null | null | null |
| 355 | Power Focus | Psychic | Status | 0 | 1000 | 40 | 0 | This move increases the user's Attack stat by 1 stage and will not work once 5 stages are gained. | Attack Gain: 1 | null | null | null | null |
| 356 | Power Play | Psychic | Status | 0 | 1000 | 15 | 0 | This move increases the user's Attack and Defense stat by 1 stage and will not work once 5 stages are gained or if the user's increased stat is 2000. | Attack Gain: 1 | Defense Gain: 1 | null | null | null |
| 337 | Pendulum | Psychic | Status | 0 | 60 | 25 | 0 | This move will cause opponent to fall asleep for 1-5 turns. | Sleep Probability: 100 | null | null | null | null |
| 368 | Psychical Legs | Psychic | Status | 0 | 1000 | 10 | -2 | This move increases the user's Speed stat by 1 stage and will not work once 5 stages are gained or if the user's Speed stat is 2000. Low priority move. | Speed Gain: 3 | null | null | null | null |
| 370 | Psychical Strike | Psychic | Status | 0 | 1000 | 5 | 0 | This move decreases the enemy's Accuracy stat by 2 stage and will not work once 5 stages are decreased. | Accuracy Decrease: 2 | null | null | null | null |
| 387 | Relaxing Mind | Psychic | Status | 0 | 1000 | 10 | 0 | This move increases the user's Special Attack and Special Defense stat by 1 stage and will not work once 5 stages are gained or if the user's increased stat is 2000. | SpAttack Gain: 1 | SpDefense Gain: 1 | null | null | null |
| 388 | Repressed Memory | Psychic | Status | 0 | 1000 | 25 | 0 | This move increases the user's Special Defense stat by 2 stages and will not work once 5 stages are gained or if the user's Special Defense stat is 2000. | SpDefense Gain: 2 | null | null | null | null |
| 446 | Space Defense | Psychic | Status | 0 | 1000 | 10 | 0 | This move increases the user's Defense and Special Defense stats by 1 stage and will not work once 5 stages are gained or if the user's increased stat is 2000. | Defense Gain: 1 | SpDefense Gain: 1 | null | null | null |
| 460 | Stat Swap | Psychic | Status | 0 | 1000 | 10 | 0 | This move swaps stat changes with enemy Monster. | Swap Stat Changes With Enemy: Yes | null | null | null | null |
| 476 | Strength Up | Psychic | Status | 0 | 1000 | 15 | 0 | This move increases the user's Attack and Special Attack stat by 1 stage and will not work once 5 stages are gained or if the user's increased stat is 2000. | Attack Gain: 1 | SpAttack Gain: 1 | null | null | null |
| 218 | Holy Eye | Psychic | Status | 0 | 1000 | 5 | 0 | This move increases the user's Accuracy stat by 1 stage and will not work once 5 stages are gained. | Accuracy Gain: 3 | null | null | null | null |
| 207 | Healing Beat | Psychic | Status | 0 | 1000 | 25 | 0 | This move will restore user's HP instantly equal to 25% of it's MaximumHP. | Life Gain User MaximumHP Percent: 25 | null | null | null | null |
| 205 | Heal | Psychic | Status | 0 | 1000 | 5 | 0 | This move restores user's half of the MaximumHP. | Life Gain User MaximumHP Percent: 50 | null | null | null | null |
| 261 | Kinetic Distract | Psychic | Status | 0 | 95 | 20 | 0 | This move decreases the enemy's Accuracy stat by 1 stage and will not work once 5 stages are decreased. | Accuracy Decrease: 1 | null | null | null | null |
| 60 | Clear Mind | Psychic | Status | 0 | 1000 | 10 | 0 | This move increases the user's Special Attack stat by 2 stages and will not work once 5 stages are gained. | SpAttack Gain: 2 | null | null | null | null |
| 68 | Confuse Beam | Psychic | Status | 0 | 85 | 15 | 0 | If this move hits, target will become confused for 1-5 turns. | Confuse Probability: 100 | null | null | null | null |
| 41 | Boundary | Psychic | Status | 0 | 1000 | 25 | 0 | This move increases the user's Defense stat by 2 stages and will not work once 5 stages are gained or if the user's Defense stat is 2000. | Defense Gain: 2 | null | null | null | null |
| 97 | Defense Up | Psychic | Status | 0 | 1000 | 15 | 0 | This move increases the user's Defense and Special Defense stat by 1 stage and will not work once 5 stages are gained or if the user's increased stat is 2000. | Defense Gain: 1 | SpDefense Gain: 1 | null | null | null |
| 357 | Power Wave | Psychic | Special | 1 | 100 | 25 | 0 | This move inflict damage based on user's level and luck. Damage formula is like this: (Random Number) X (User's Level/5) where Random Number is between 1-8. This move will do at least 1 damage. | Level Based Random Damage: Yes | null | null | null | null |
| 366 | Psychic Blast | Psychic | Special | 30 | 75 | 10 | 0 | This move has a 40% chance of hitting 2 times, a 35% chance of hitting 3 times, a 15% chance of hitting 4 times and a 10% chance of hitting 5 times. If first hit be critical hit all other hits will be also critical hit. | Multiple Hit: 2-5 | null | null | null | null |
| 369 | Psychical Stance | Psychic | Special | 35 | 100 | 10 | 0 | This move increases the user's Special Attack stat by 1 stage and will not work once 5 stages are gained. | SpAttack Gain: 1 | null | null | null | null |
| 364 | Psyburn | Psychic | Special | 40 | 90 | 20 | 0 | This move has a 50% chance of burning the foe. If foe is Frozen, this move will thaw it out. | Burn Probability: 50 | null | null | null | null |
| 104 | Disorient | Psychic | Special | 60 | 90 | 20 | 0 | This move has a 35% chance of confusing the foe. | Confuse Probability: 35 | null | null | null | null |
| 371 | Psycho Beam | Psychic | Special | 65 | 95 | 20 | 0 | This move inflicts damage and has no secondary effect. | null | null | null | null | null |
| 292 | Magic Pulse | Psychic | Special | 65 | 1000 | 10 | 0 | Never miss. | null | null | null | null | null |
| 488 | SynchroBlast | Psychic | Special | 65 | 85 | 15 | 0 | The attack only doubles in power if it is used second and only if hit by an opponent first. | Double Power If Goes Last: Yes | null | null | null | null |
| 543 | Vicious Blow | Psychic | Physical | 65 | 80 | 25 | 0 | This move decreases the enemy's Evasion stat by 1 stage and will not work once 5 stages are decreased. | Evasion Decrease: 1 | null | null | null | null |
| 314 | Moon Kick | Psychic | Physical | 70 | 85 | 15 | 0 | This move has a 25% chance to cause the foe to cringe. If the user attacks second, it cannot make the opponent cringe. | Cringe Probability: 25 | null | null | null | null |
| 331 | Odd Wave | Psychic | Special | 75 | 80 | 15 | 0 | This move has a 35% chance of confusing the foe. | Confuse Probability: 35 | null | null | null | null |
| 365 | Psychic Blades | Psychic | Physical | 75 | 85 | 25 | 0 | This move has increased critical hit ratio (2x). | Critic Level: 2 | null | null | null | null |
| 234 | Hypnoblast | Psychic | Special | 80 | 80 | 15 | 0 | This move has a 35% chance to fall asleep the foe. | Sleep Probability: 35 | null | null | null | null |
| 367 | Psychic Wave | Psychic | Physical | 85 | 80 | 15 | 0 | This move inflicts damage and has no secondary effect. | null | null | null | null | null |
| 325 | Mystifying Horns | Psychic | Physical | 85 | 80 | 15 | 0 | This move has 15% chance to confuse target for 1-5 turns. | Confuse Probability: 15 | null | null | null | null |
| 299 | Mega Slam | Psychic | Physical | 95 | 80 | 10 | 0 | This move has a 35% chance to cause the foe to cringe. If the user attacks second, it cannot make the opponent cringe. | Cringe Probability: 35 | null | null | null | null |
| 311 | Mind Strike | Psychic | Special | 100 | 80 | 15 | 0 | This move inflicts damage and has no secondary effect. | null | null | null | null | null |
| 308 | Mind Bend | Psychic | Special | 100 | 70 | 10 | 0 | This move decreases the enemy's Special Defense stat by 1 stage and will not work once 5 stages are decreased. | SpDefense Decrease: 1 | null | null | null | null |
| 340 | Phenomenal | Psychic | Special | 100 | 65 | 35 | 0 | This move has a 45% chance of causing the foe to cringe. If the user attacks with this move a second time, it cannot make the opponent cringe. | Cringe Probability: 45 | null | null | null | null |
| 69 | Consume Dream | Psychic | Special | 125 | 95 | 10 | 0 | The user gains HP equal to 50% of the damage the opponent took. This move cannot be used on an opponent that is awake. | Works On Sleeping Foe: Yes | Life Absorb Damage Percent: 50 | null | null | null |
| 470 | Stone Polish | Rock | Status | 0 | 1000 | 15 | 0 | This move increases the user's Speed stat by 2 stages and will not work once 5 stages are gained or if the user's Speed stat is 2000. | Speed Gain: 2 | null | null | null | null |
| 466 | Stone Barrage | Rock | Physical | 25 | 85 | 15 | 0 | This move has a 40% chance of hitting 2 times, a 35% chance of hitting 3 times, a 15% chance of hitting 4 times and a 10% chance of hitting 5 times. If first hit be critical hit all other hits will be also critical hit. | Multiple Hit: 2-5 | null | null | null | null |
| 505 | Throw | Rock | Physical | 40 | 100 | 20 | 0 | This move inflicts damage and has no secondary effect. | null | null | null | null | null |
| 391 | Rock Toss | Rock | Physical | 50 | 90 | 20 | 0 | This move inflicts damage and has no secondary effect. | null | null | null | null | null |
| 469 | Stone Crush | Rock | Physical | 60 | 75 | 10 | 0 | This move decreases the enemy's Speed stat by 1 stage and will not work once 5 stages are decreased. This move has a 25% chance to cause the foe to cringe. If the user attacks second, it cannot make the opponent cringe. | Cringe Probability: 25 | Speed Decrease: 1 | null | null | null |
| 404 | Severe Crush | Rock | Physical | 65 | 90 | 20 | 0 | This move inflicts damage and has no secondary effect. | null | null | null | null | null |
| 271 | Legendary Power | Rock | Special | 75 | 100 | 5 | 1 | This move has 5% chance to increase all stats by 1 stages of User. High priority move. | All Stat Gain Chance Percent: 5 | null | null | null | null |
| 264 | Land Slide | Rock | Physical | 85 | 80 | 10 | 0 | This move has a 25% chance to cause the foe to cringe. If the user attacks with this move a second time, it cannot make the opponent cringe. | Cringe Probability: 25 | null | null | null | null |
| 216 | Hill Climb | Rock | Physical | 90 | 80 | 10 | 0 | This move has 25% chance to confuse target for 1-5 turns. If any monster at your team knows this move, you can climb through certain paths. | Confuse Probability: 25 | null | null | null | null |
| 467 | Stone Blade | Rock | Physical | 105 | 75 | 5 | 0 | This move has increased critical hit ratio (2x). | Critic Level: 2 | null | null | null | null |
| 297 | Mantle Crush | Rock | Physical | 125 | 95 | 10 | -1 | This move inflicts damage and has no secondary effect. Low priority move. | null | null | null | null | null |
| 468 | Stone Break | Rock | Physical | 155 | 85 | 5 | 0 | Requires two turns to use. User can not change Monster or use another move until move completed. | Multiple Turn To Complete: 2 | null | null | null | null |
| 426 | Skull Smash | Rock | Physical | 160 | 85 | 10 | 0 | The user takes recoil damage equal to 60% of the damage dealt to the Opponent. This move has a 25% chance to cause the foe to cringe. If the user attacks second, it cannot make the opponent cringe. | Recoil Damage Percent: 60 | Cringe Probability: 25 | null | null | null |
| 12 | Ancestor Call | Rock | Special | 180 | 40 | 5 | 0 | This move increases the user's Attack, Defense, Special Attack, Special Defense, Speed, Accuracy and Evasion stats by 1 stage. | All Stats Gain: 1 | null | null | null | null |
| 32 | Body Shed | Steel | Status | 0 | 1000 | 20 | 0 | This move increases the user's Speed stat by 2 stages and will not work once 5 stages are gained or if the user's Speed stat is 2000. | Speed Gain: 2 | null | null | null | null |
| 255 | Iron Gear | Steel | Status | 0 | 100 | 5 | 0 | This move increases the user's Attack stat 1 stage and Speed stat by 2 stages and will not work once 5 stages are gained at increased stat or increased stat reached 2000. | Speed Gain: 2 | Attack Gain: 1 | null | null | null |
| 398 | Scratch Metal | Steel | Status | 0 | 80 | 10 | 0 | This move decreases the enemy's Special Defense stat by 3 stages and will not work once 5 stages are decreased. | SpDefense Decrease: 3 | null | null | null | null |
| 389 | Resonance | Steel | Status | 0 | 1000 | 20 | 0 | This move increases the user's Attack and Special Attack stat by 1 stage and will not work once 5 stages are gained or if the user's increased stat is 2000. | Attack Gain: 1 | SpAttack Gain: 1 | null | null | null |
| 303 | Metal Armor | Steel | Status | 0 | 1000 | 10 | -2 | This move increases the user's Defense stat by 3 stages and will not work once 5 stages are gained or if the user's Defense stat is 2000. Low priority move. | Defense Gain: 3 | null | null | null | null |
| 531 | Tuning Fork | Steel | Status | 0 | 1000 | 20 | 0 | This move increases the user's Attack and Special Attack stat by 1 stage and will not work once 5 stages are gained or if the user's increased stat is 2000. | Attack Gain: 1 | SpAttack Gain: 1 | null | null | null |
| 403 | Serial Punch | Steel | Physical | 20 | 75 | 15 | 0 | This move has a 40% chance of hitting 2 times, a 35% chance of hitting 3 times, a 15% chance of hitting 4 times and a 10% chance of hitting 5 times. If first hit be critical hit all other hits will be also critical hit. | Multiple Hit: 2-5 | null | null | null | null |
| 372 | Quick Punch | Steel | Physical | 35 | 100 | 35 | 1 | High priority move. | null | null | null | null | null |
| 464 | Steel Slash | Steel | Physical | 40 | 95 | 20 | 0 | This move increases the user's Attack stat by 1 stage and will not work once 5 stages are gained. | Attack Gain: 1 | null | null | null | null |
| 295 | Magnetic Ray | Steel | Special | 50 | 90 | 20 | 1 | High priority move. | null | null | null | null | null |
| 256 | Iron Strike | Steel | Physical | 50 | 80 | 10 | 0 | Hits 2 times in a row. If first hit be critical hit all other hits will be also critical hit. | Multiple Hit: 2 | null | null | null | null |
| 294 | Magnetic Dead | Steel | Physical | 55 | 1000 | 10 | 0 | This move does not miss. | null | null | null | null | null |
| 384 | Refection Strike | Steel | Special | 70 | 75 | 10 | 0 | This move decreases the enemy's Accuracy stat by 1 stage and will not work once 5 stages are decreased. | Accuracy Decrease: 1 | null | null | null | null |
| 457 | Star Punch | Steel | Physical | 70 | 95 | 20 | 0 | This move has a 15% chance to cause the foe to cringe. If the user attacks second, it cannot make the opponent cringe. | Cringe Probability: 15 | null | null | null | null |
| 257 | Iron Wing | Steel | Physical | 70 | 80 | 25 | 0 | This move increases the user's Defense stat by 1 stage and will not work once 5 stages are gained or if the user's Defense stat is 2000. | Defense Gain: 1 | null | null | null | null |
| 254 | Iron Fist | Steel | Physical | 80 | 90 | 15 | 0 | This move has a 15% chance to cause the foe to cringe. If the user attacks second, it cannot make the opponent cringe. | Cringe Probability: 15 | null | null | null | null |
| 210 | Heavy Slam | Steel | Physical | 85 | 85 | 10 | 0 | This move inflicts damage and has no secondary effect. | null | null | null | null | null |
| 304 | Metal Skull | Steel | Physical | 85 | 80 | 20 | 0 | This move has a 35% chance to cause the foe to cringe. If the user attacks second, it cannot make the opponent cringe. | Cringe Probability: 35 | null | null | null | null |
| 305 | Metal Storm | Steel | Physical | 95 | 75 | 15 | -1 | This move has a 55% chance of cause bleeding at the foe. | Bleeding Probability: 55 | null | null | null | null |
| 28 | Blade Smash | Steel | Physical | 95 | 85 | 15 | -1 | This move decreases the enemy's Attack stat by 1 stage and will not work once 5 stages are decreased. | Attack Decrease: 1 | null | null | null | null |
| 100 | Destructive Squeeze | Steel | Physical | 100 | 90 | 5 | 0 | This move has a 35% chance to cause the foe to cringe. If the user attacks second, it cannot make the opponent cringe. | Cringe Probability: 35 | null | null | null | null |
| 563 | Zen Blade | Steel | Physical | 100 | 75 | 10 | 0 | This move has increased critical hit ratio (2x). | Critic Level: 2 | null | null | null | null |
| 463 | Steel Fist | Steel | Physical | 120 | 75 | 10 | 0 | This move increases the user's Attack stat by 1 stage and will not work once 5 stages are gained. | Attack Gain: 1 | null | null | null | null |
| 489 | Tail Strike | Steel | Physical | 120 | 65 | 10 | 0 | This move decreases the enemy's Defense stat by 1 stage and will not work once 5 stages are decreased. | Defense Decrease: 1 | null | null | null | null |
| 307 | Meteor Shower | Steel | Physical | 150 | 90 | 5 | 0 | This move decreases the user's Attack stat by 2 stages and will not work once 5 stages are decreased. | Attack Gain: -2 | null | null | null | null |
| 473 | Storm Dance | Water | Status | 0 | 1000 | 5 | 0 | This move makes the weather Cloudy for entire battle. Cloudy weather decreases fire and light type moves power by 25% and increases water and ice type moves power by 25%. | Makes Weather Cloudy: Yes | null | null | null | null |
| 501 | Thick Fog | Water | Status | 0 | 1000 | 20 | 0 | This move decreases the enemy's Accuracy stat by 2 stages and will not work once 5 stages are decreased. | Accuracy Decrease: 2 | null | null | null | null |
| 99 | Destroy Mode | Water | Status | 0 | 1000 | 20 | 0 | This move increases the user's Attack, Special Attack, and Speed stats by 1 stage and will not work once 5 stages are gained or if the user's increased stat is 2000. This move will decrease user's Defense and Special Defense stats 1 stage and will | Attack, SpAttack, Speed Gain :1 , Defense, SpDefense Gain :-1 | null | null | null | null |
| 16 | Armor Transformation | Water | Status | 0 | 1000 | 10 | -2 | This move increases the user's Defense stat by 3 stages and will not work once 5 stages are gained or if the user's Defense stat is 2000. Low priority move. | Defense Gain: 3 | null | null | null | null |
| 286 | Liquid Defense | Water | Status | 0 | 1000 | 40 | 0 | This move increases the user's Defense stat by 1 stage and will not work once 5 stages are gained or if the user's Defense stat is 2000. | Defense Gain: 1 | null | null | null | null |
| 374 | Rage Spout | Water | Special | 1 | 100 | 10 | 0 | This move damage formula is based on the user's current HP. As the user's HP gets decreased, the Power of move gets increased. Power is calculated with this formula: 20/ (CurrentHP / MaximumHP). So if your CurrentHP is 10% of your Max | Less HP More Power: Yes | null | null | null | null |
| 45 | Bubble Strike | Water | Special | 20 | 90 | 40 | 0 | This move decreases the enemy's Speed stat by 1 stage and will not work once 5 stages are decreased. | Speed Decrease: 1 | null | null | null | null |
| 545 | Water Ball | Water | Special | 25 | 90 | 10 | 0 | This move has a 40% chance of hitting 2 times, a 35% chance of hitting 3 times, a 15% chance of hitting 4 times and a 10% chance of hitting 5 times. If first hit be critical hit all other hits will be also critical hit. | Multiple Hit: 2-5 | null | null | null | null |
| 14 | Aqua Shot | Water | Physical | 35 | 100 | 25 | 1 | High priority move. | null | null | null | null | null |
| 550 | Water Spray | Water | Special | 40 | 100 | 30 | 0 | This move inflicts damage and has no secondary effect. | null | null | null | null | null |
| 375 | Raged Squirt | Water | Special | 50 | 85 | 20 | 0 | This move will do double when User's Current HP is below half of its MaximumHP. | Double Damage Half User MaximumHP: Yes | null | null | null | null |
| 15 | Aqua Sonic | Water | Special | 60 | 1000 | 10 | 0 | This move inflicts damage and has no secondary effect. Never miss. | null | null | null | null | null |
| 329 | Ocean Pulse | Water | Special | 65 | 80 | 25 | 0 | This move has a 25% chance of confusing the foe. | Confuse Probability: 25 | null | null | null | null |
| 380 | Razor Fin | Water | Physical | 70 | 95 | 15 | 0 | This move inflicts damage and has no secondary effect. | null | null | null | null | null |
| 44 | Bubble Ray | Water | Special | 70 | 80 | 20 | 0 | This move decreases the enemy's Speed stat by 1 stage and will not work once 5 stages are decreased. | Speed Decrease: 1 | null | null | null | null |
| 249 | Ink Cannon | Water | Special | 70 | 65 | 15 | 0 | This move decreases the enemy's Accuracy stat by 1 stage and will not work once 5 stages are decreased. | Accuracy Decrease: 1 | null | null | null | null |
| 547 | Water Claw | Water | Physical | 75 | 85 | 15 | 0 | This move has 15% chance to confuse target for 1-5 turns. This move has increased critical hit ratio (2x). | Confuse Probability: 15 | Critic Level: 2 | null | null | null |
| 548 | Water Fang | Water | Physical | 75 | 85 | 15 | 0 | This move has 15% chance to confuse target for 1-5 turns. This move has a 15% chance to cause the foe to cringe. If the user attacks second, it cannot make the opponent cringe. | Confuse Probability: 15 | Cringe Probability: 15 | null | null | null |
| 549 | Water Punch | Water | Physical | 75 | 90 | 15 | 0 | This move has 15% chance to confuse target for 1-5 turns. | Confuse Probability: 15 | null | null | null | null |
| 436 | Sloppy Spit | Water | Special | 80 | 70 | 15 | 0 | This move decreases the enemy's Accuracy stat by 1 stage and will not work once 5 stages are decreased. | Accuracy Decrease: 1 | null | null | null | null |
| 416 | Shell Blade | Water | Physical | 80 | 80 | 10 | 0 | This move decreases the enemy's Defense stat by 1 stage and will not work once 5 stages are decreased. | Defense Decrease: 1 | null | null | null | null |
| 324 | Mystical Spit | Water | Special | 85 | 90 | 5 | 0 | This move decreases the enemy's Special Attack stat by 1 stage and will not work once 5 stages are decreased. | SpAttack Decrease: 1 | null | null | null | null |
| 35 | Boiling Water | Water | Special | 85 | 85 | 15 | 0 | This move inflicts damage and has no secondary effect. | null | null | null | null | null |
| 53 | Cascade | Water | Special | 90 | 80 | 15 | 0 | Cascade can be used outside of battle to climb waterfalls. | null | null | null | null | null |
| 462 | Steam Pump | Water | Special | 90 | 85 | 10 | 0 | This move has a 15% chance to cause the foe to cringe. If the user attacks second, it cannot make the opponent cringe. | Cringe Probability: 15 | null | null | null | null |
| 542 | Vice Hammer | Water | Physical | 95 | 85 | 10 | 0 | This move has increased critical hit ratio (2x). | Critic Level: 2 | null | null | null | null |
| 491 | Tail Wave | Water | Physical | 100 | 80 | 15 | 0 | This move inflicts damage and has no secondary effect. | null | null | null | null | null |
| 496 | Tempest Gale | Water | Special | 120 | 95 | 5 | -1 | This move has a 15% chance to cause the foe to cringe. If the user attacks second, it cannot make the opponent cringe. | Cringe Probability: 15 | null | null | null | null |
| 546 | Water Blast | Water | Special | 120 | 75 | 10 | 0 | Water Blast deals damage and has no secondary effect. | null | null | null | null | null |
| 530 | Tsunami | Water | Special | 140 | 90 | 5 | 0 | This move decreases the User's Special Attack stat by 2 stages and will not work once 5 stages are decreased. | SpAttack Gain: -2 | null | null | null | null |
| 233 | Hyper Surf | Water | Special | 140 | 70 | 10 | 0 | Hyper Surf allows you to travel on the water areas at the map. By surfing you can also catch wild Monsters. | null | null | null | null | null |
| 227 | Hyper Cannon | Water | Special | 165 | 90 | 5 | 0 | Requires two turns to use. User can not change Monster or use another move until move completed. | Multiple Turn To Complete: 2 | null | null | null | null |