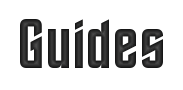 If you are new to the game, or looking fo more in-depth information on how mechanics of the game work, you can find general information here.  Guides here are written by Monster MMORPG Staff; if you are looking for Player-Written Guides, or are interested in making your own submission, this section of the Forum is a good place to look.
Below are links to all of the different guide pages on the site. Please use these pages to find the information that you need before asking in the game, as these will help explain it a lot better!

Knost's Guides to better MonsterMMORPG play - Contains Beginners Guides, PVP Guides, Arena Guides and Tips for better play.