We're Getting Mutants in the MCU - The Loop
Play Sound
Community, Player Tips, Teams, Tournaments, Staff Team, Credits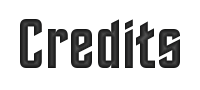 The Talented People That Have Contributed to Our Game's Development
This page will serve as a list and explain what each person has done or is contributing to our game's development. These people have all worked really hard and are still working hard to improve the features of our game.
Also known as Garbagekeeper, is a very talented monster artist that has made a majority of the monsters in the game. She is still creating more and more monsters for us to use and we are all very grateful to have a person like her with us. Garbagekeeper is also working on new stats for monsters and is assisting the new movepool we are going to get for the game.
Miyavi -
Miyavi is a graphic designer that can create a theme for Monster MMORPG and edit the pages to look much better. He can also make banners, signatures, avatars, wallpapers, and even monsters! He is also re drawing many Monsters.
Also known as Narsilion, is an official monster creator of Monster MMORPG. She is also a new important asset to our community! Their monsters are very different from Garbagekeeper's. Each artist are both amazing in their own spectacular way!
Heatshot -
Heatshot has been a user in Monster MMORPG from the very beginning and is a well-known person. He determines the percentage catch rates of monsters and what monsters are found on which maps. Heatshot also locates and reports in-game bugs.
Also known as Of-Nihility, is our new map designer that is creating 520+ new maps for the players to travel on. This person is a professional at what they do and we are glad that our boss hired someone like Of-Nihility. He was one of the two map designers that CeFurkan has hired but he wasn't the one chosen for the task.
Also known as Animatics, was one of the first monster designers we had in Monster MMORPG. She is also a talented artist that gave us her monsters to use. She is not really active with the community as others are but we still appreciate her work.
Alpcemos -
Alpcemos is responsible for making the tabs and designs found all around the game. Making buttons may look easy, but it's definitely not. His job may be just buttons and tabs but they add more design to our game to make it more attractive to the people playing.
Henrie is a very talented graphical artist who is taking the monster models that Sierra Martin (garbagekeeper) has already done and making improvements to their quality. She will hopefully be upgrading all of the monsters currently in the game.
Wesley, or mostly known as WesleyFG, is the talented map maker that CeFurkan paid US$3500 to make high quality maps. His map creations are one of the things that MonsterMMORPG can be proud of. He will make 520 maps, under 19 zones. He is one of the two candidates to be te official map designer ans he was the one chosen.